From average homeowners to professional users, tools are a must if you want to build or repair something. When starting your tool collection, it is common to buy one at a time, but within a short period, you will have amassed several tools leaving your workshop disorganized. There is a simple solution to not only organize your tools but to also secure and keep them away from your children. The answer is the best tool box. The majority of toolboxes are fabricated with impact resistant materials, fixed organizers, insert trays and full-length drawers. It provides you with enough space to organize your parts and tools.
Recommended Best tool box
Stanley One-Latch Toolbox, 19-Inch, Black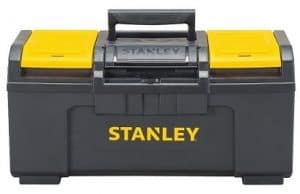 This handy toolbox is highly convenient not only for homeowners but professionals too. Your tools should not be strewn all over your workshop while you can store them in a machine crafted box. Here are it's featured.
One hand operation latch
Working in the workshop calls for concentration as you don't want to end up hurting your fingers or hands. To ensure ease of opening, Stanley engineers have fabricated a one hand operation latch. It allows you to open the tool box and select a tool while the other hand is occupied. An extra wide handle compliments the latch. It features a soft grip which allows you to lift the toolbox with ease.
Robust structure
Whether you are working at home or a job site, it is important to have a reliable toolbox by your side. That is why Stanley engineers have fabricated the toolbox with a high-quality design and materials providing you with a robust structure. It assures you of durability. It gives every mobile craftsman the much-needed versatility too. Thanks to its robust structure, you can go about your duties with ease.
Removable tray and organizers
As a mobile craftsman, it is important to know where all your tools are. It eliminates the needs of spending a few minutes searching. The toolbox comes with a removable tray. It has enough space for storing larger tools. Once you have arranged the tools, the removable tray is placed back in the toolbox. The lid has space for small parts organization.
Pros
It has an extra wide soft grip handle that allows easy lifting
The one hand operation latch makes it easy to open the toolbox
​Built by a company with a solid reputation
Provides storage for all your tools
Cons
The lid may be damaged by the rays of the sun warping it
It's made of plastic.

MILWAUKEE 13 In. Jobsite Tool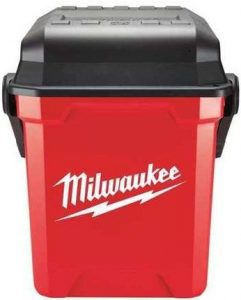 ​
If you are in search of an impact resistant toolbox that is not only durable but affordable too, I highly suggest the MILWAUKEE 13 In. Jobsite Tool. Here it's features.
Impact resistant materials
Unlike other cheap toolboxes that are constructed with low-cost materials that never last long, Milwaukee product engineers have decided to go a step further and use impact resistant materials. In case your toolbox was knocked over and fell to the ground, the impact resistant structure will be able to withstand the outward forces leaving the toolbox intact. It is designed to withstand over 1000 drops with a 25-pound load. The toolbox features reinforced corners that help to ensure durability.
Integrated drip ledge lid
It comes with an integrated drip ledge lid that helps to protect your tools. The lid keeps the interior dry and free of any contamination and debris. The majority of tools are made with metal alloys where some are susceptible to corrosion and rust. Corroded tools are not useful and you may need to spend more money to buy new ones. Thanks to the integrated drip ledge lid, you don't have to spend any money to replace your tools.
Wide grip locking handle
Working at a job site calls for packing your toolbox and transporting it to and from the truck. It ensures that every mechanics can carry the toolbox, it's fitted with a full grip locking handle. The handle allows ergonomic lifting and easy transportation. Furthermore, the toolbox provides versatility, especially when working on projects that are close to the ground. It has a box divider and removable vertical tool storage wall. It allows easy access to the tools as well as convenient storage.
Pros
An integrated drip ledge that protects the interior of the toolbox
Removable vertical tool storage allows easy access
Has an integrated cut groove providing a stable platform to cut job site materials
Comes with an index square for easy and secure stacking
Built with impact resistant materials for durability
Cons
It's deep making it harder to find a tool
Has a wide shape making it difficult to carry.

Excel Red 21-Inch Portable Steel Tool Box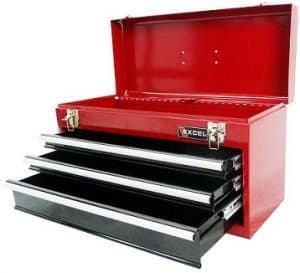 Having you been losing your tools after working at a job site? If you use Excel Red 21-Inch Portable Steel Tool Box, you don't have to think about that matter. Here it's featured.
Full-length aluminum drawer pulls
Aluminum is renowned for its lightness and corrosion resistant properties. Thanks to its use, the tool box is designed to be light and sturdy. It features three drawers which can be pulled out at full length. You can organize your tools from the lightest to the heaviest, from the smallest to the largest in any of the available drawers.
Cold rolled steel outer body
The outer body is made of cold rolled steel. Just like aluminum, steel is renowned for its toughness and corrosion resistant properties. The cold rolled steel provides the outer body with a hardened shell that 's hard to compromise especially when the toolbox is dropped more times than you can count. It comes with a top tray made with steel assuring you of durability.
Powder coat pain finish
While the outer body is made of cold rolled steel, further protection is enhanced by a powder coat paint finish. It helps to protect the outer body from coming into contact with contaminants and other elements. Furthermore, it gives the toolbox an attractive appearance. To allow easy transportation of the tool box, it has an easy grip handle.
Pros
The toolbox is constructed of cold rolled steel. It assures you of durability
It features full-length aluminum drawers that allow easier organization
​Has an easy grip handle for simpler portability
The powder coat finish enhances the appearance of the box
Built by a company of a solid reputation
Cons
. Cannot be stacked with other toolboxes since the handle is located on the top and not the sides
Holds enough tools for use around the house

Stack-On 16-Inch Multi-Purpose Steel Tool Box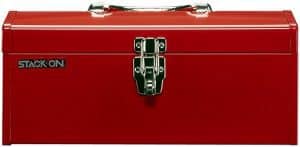 ​
Stack-On is an established US manufacturer that produces top quality storage solutions for homes, offices and industries. The company supplies a line of products that meets the needs of maintenance, personnel and hobbyists. That is why the Stack-On R-516-2 16-Inch Multi-Purpose Steel Tool Box, Red is a great product for you.
Here are its features.
Steel outer body
The tool box is fabricated with steel which is a sturdy and corrosion resistant material. Thanks to the sturdy material, the box can withstand impact several times. If it drops from your hand, it will not damage. The tools will be protected not only from corrosion but contact with contaminants. As a result, you don't have to incur further expenses.
Durable baked epoxy finish
Although steel is a corrosion resistant material that is tough, there are contaminants which may compromise the outer protective layer providing a leeway for corrosion and rust. To ensure solid protection, the product engineers have covered the outer steel body with the baked epoxy finish. It helps to resist contaminants from coming into contact with the steel body and initiating corrosion.
Steel carry handle
Transportation is a primary concern when it comes to tool boxes. As a mobile craftsman, you need a toolbox that is easy to carry. The only way to bring a toolbox is by using its handle. This model comes with a steel carry handle. Just like the body, the handle is durable and versatile. It allows you to take the toolbox from your home to the truck and from the truck to the job site with ease. Furthermore, it has an insert tray which can be lifted out allowing access to frequently used tools.
Pros
It rugged all steel end cap construction providing greater strength
Has nickel plated steel draw bolts that hold heavier loads
Outer body is protected with baked epoxy finish
Available in red
Has a steel carry handle that allows easy transportation
Cons
The insert tray is made of plastic and not steel
While the outer body is constructed with steel, the metal is thin.

DEWALT Long Handle Toolbox Organizer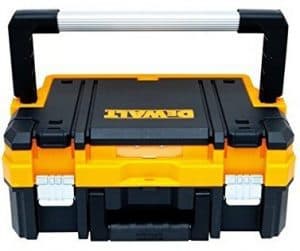 Dewalt is a global brand headquartered in the US and renowned for manufacturing home and industrial tools which help to make work easier. The company has invested in the fabrication of tools with high-quality materials assuring you of durability. That is why DEWALT DWST17808 TSTAK I Long Handle Toolbox Organizer is a great toolbox for your home.
Here are its features
Fixed dividers
The toolbox comes with fixed dividers for better organization of your tools. You can organize your drills and bits allowing easier retrieval. It is highly convenient when at the job site. You don't have to spend time looking for a particular bit; they will be right close by. The fixed dividers are built with high-quality materials assuring you of durability.
Heavy duty metal latches
It comes with heavy duty metal latches that help to secure the tool box. They are rust resistant and easy to use. All you have to do is flip them upwards and you are good to go. You can have access to your tools anytime you want.
Extended length handle
Unlike other models that come with a small handle for lifting, the DEWALT DWST17808 TSTAK I Long Handle Toolbox Organizer comes with an extended handle located on top of the box. The handle is bi-material assuring you of durability. This allows easy handling and comfortable lifting. Furthermore, it comes with a smaller handle located on the front of the unit.
Pros
Built with high-quality materials
Features fixed organizers
Has heavy duty latches that are rust resistant
The extended bi-material handle allows easy and comfortable lifting
Comes with removable cups
Cons
The inside is not flat limiting the capacity of the toolbox
The outer body is made of plastic which may be compromised by heat if the toolbox is placed outside for long.

How to Choose Best tool box
Shopping for the best toolbox can be a daunting task especially if it's your first time. You can make the experience to be much easier allowing you to select the right product. Here are factors you need to consider.
1. Impact resistant material
According to the best tool box review in 2017, choosing a model made with impact resistant materials assures you of durability. Steel is the best material, but there are models made with heavy duty plastic which also withstands impact.
2. Portability
Your toolbox should be easy to carry regardless of the number of tools stored within it. To ensure portability, it should be fabricated with handles at the top, front or sides. It allows you to move the toolbox comfortably between job sites.
3. Fixed organizers and drawers
Having a toolbox is not enough unless it's designed with drawers and fixed organizers. It allows you to place your drills, bits and other tools in specific sections allowing easier retrieval.
4. Size
Every toolbox comes in a different size. Some have a large capacity while others have small. When shopping for a toolbox, look for one that suits your needs regarding size.
5. Wheels
There are models fitted with rear wheels. It allows better mobility is making it perfect to move between job sites. Furthermore, they can carry much weight.
Final Thoughts
Tools are expensive and to preserve your investment, you need a high-quality toolbox. The best toolbox should be built with high impact materials like steel, should have drawers, insert trays, extended handles and wheels. Are you shopping for a toolbox suitable for you tools? I highly suggest the products reviewed above.