You are fooling yourself if you think the quality of your bench vise will not impact the quality of your work. Buying the best bench vise is the cornerstone of carpentry and metal working projects. They help you work safer, they serve as a counterweight, and they let you drill holes through wood and metal with precision. As bench vise reviews can attest, the better your bench vise, the better your end product will be.

Whether you are using your bench vise to straighten out nails or to repair the sheet metal panels on your car, success is dependent on using the best bench vise money can buy, and not settling for a mediocre, less expensive model. When you read online bench vise reviews, it becomes clear that people who went the cheap route end up regretting it in the long run.
This resource has been designed to provide you the information you need to evaluate your current bench vise and then make a conscientious decision on the upgrades you will need.
Factors & Features To Consider When Buying a Bench Vise
At first glance, all bench vises seem the same. This causes many to make the mistake of not comparing the pros and cons of different bench vises.
The truth is that different vises have different features and capabilities that will impact your ability to perform your job well. The following are a few features to look for when looking for the best bench vise for you.
First, decide if you want a swivel base or a stationary one. The stationary base has the benefit of having no moving parts, whereas the swivel base has the benefit of allowing you to angle the materials you are cutting or shaping to meet your needs.
Second, decide if you want pipe jaws or not. If you are only going to be cutting flat materials, then maybe a vise with a pipe jaw is overkill. However, if you find yourself cutting circular materials frequently or if you just want to be prepared for the odd chance you will need to cut a pipe, get a vise with pipe jaws.
Third, rotating vises are more versatile as they allow you to adjust the positioning of the material you are cutting to provide you with easier access to the material.
Finally, choose the right material for your vise. Ductile iron vises are heavy, durable, and strong. Cast iron vises, usually imported, are strong but do not have the same durability as their ductile counterpart.
All of the above the features can be combined into different vises. So before you shop for a vise, you need to know the type of projects you are expecting to work on and the features you will need in order to accomplish said task.
Next, ask yourself, will I be using this vise for do-it-yourself at home projects? Will I perform medium mechanical projects? Or am I looking for something that can handle heavy duty military/industrial grade work?
Finally, look at the price of the vise. In the United States there more than 20 companies that sell vises. It's easy to get caught up in just looking at the price of the product without really seeing the quality of the product being offered.
Take the time to examine it and make sure that you're getting what you're looking for. It never hurts to ask questions. Remember, a quality vise is a tool that will last for generations. So while it is good to purchase one that offers the best value, it is also good to make sure that what you are actually buying is the best bench vise for the money.
Our Recommended Top 10 Best Bench Vises
Image
Description
Jaw Width
Price
Yost Vises 880-DI - Multi-Purpose Bench Vise


** Editor's Choice - Best Bench Vise **

8 inch
Wilton 11104 Wilton Bench Vise


** Best Budget Bench Vise **

4 inch
Olympia Tools 38-614 - Mechanic's Bench Vise
4-6 inch
IRWIN Tools Heavy Duty Workshop Vise, 4-inch
4-6 inch
Performance Tool MV4 4-Inch Machinist Vise
4-8 inch
Grizzly G7062 - Bench Vise
5 inch
TEKTON 54006 6-Inch Swivel Bench Vise
4-8 inch
Wilton 21800 748A 8-Inch Jaw
8 inch
Ridgid 66997 F-60 Bench Vise
6 inch
Woodstock D4074 - Bench Vise4-5 inch
4-5 inch
Our Top 10 Best Bench Vise Reviews
Yost Vises 880-DI 8″ Multi-Purpose Bench Vise
** Editor's Choice – Best Bench Vise **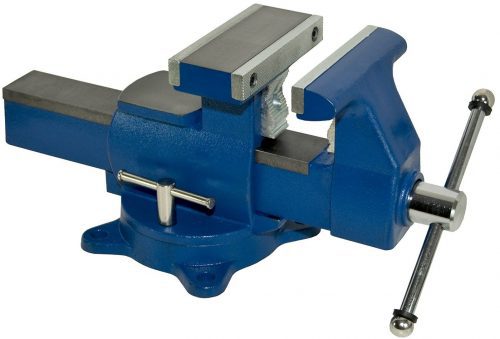 This vise has an eight-inch wide jaw designed for securely clamping materials in a medium to heavy duty application. Its reversible front jaw can expand the opening from 8.5 inches to 12.5 inches. A 360-degree swivel base lets you adjust the jaws into any position and then lock them in place.
Its ductile iron body makes it durable. Its two flat surfaces can be used as an anvil. The jaws are serrated on one side and smooth on the other side, allowing you to crimp down on heavier materials while at the same time allowing it to hold softer materials securely without damaging them.
This vise is a monster, weighing in at 69 pounds and having dimensions of 24x11x7 inches. It is made in the USA and has jaws that are cast at 60,000 psi. If the online bench vise reviews are to be believed, you may wonder whether your current workbench is worthy of this vise.
Wilton 11104 Wilton Bench Vise
** Best Budget Bench Vise **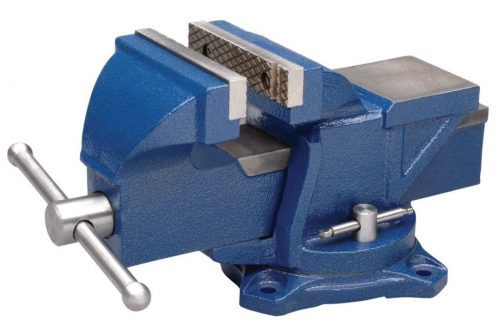 With a swivel base that has two lockdown mechanisms and an ample anvil work surface, the Wilton 11104 is the best bench vise in this price range. It is made from high-strength steel. It weighs 15.4 pounds and has a sturdy feel to it. It has a 120 degrees swivel and is protected by a lifetime warranty.
The anvil work surface is perfect for hammering out smaller jobs. It can easily be attached to your workspace with 3/8 inch steel all thread bolts, washers, and wing nuts to create a strong workspace. It operates smoothly, its jaws are well aligned, and the product comes well-greased to protect it from corrosion during its voyage overseas.
While not designed for heavy-duty jobs, this device is perfect for the do-it-yourselfer or professional who is looking to do small to medium sized projects. It is competitively priced while providing quality that is on par with some of the more expensive bench vises.
Olympia Tools 38-614 4″ Mechanic's Bench Vise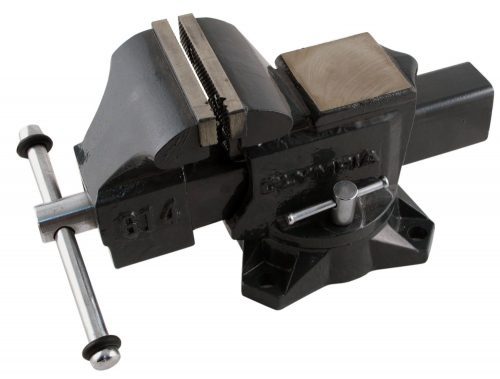 Weighing in at 6.2 pounds, the Olympia Tools mechanic's bench vise is made from malleable steel casting and is equipped with a chrome plated spindle and handle. It is durable, yet small enough (4 inches wide by 12 inches long and 6 inches high) to be used on a countertop while still leaving room for your project.
It is designed for small to medium projects. It has grippy jaws that are capable of applying a massive amount of pressure on an object. It can easily be adjusted horizontally and has varying levels of aggressiveness designed into its jaws. It is easy to mount thanks to its 5 x 6 inch four lug base.
It is equipped with a 2.5 by 2.5 hammer anvil plate, which is perfect for contouring metal. It is a great do-it-yourself vise for assembling and holding materials, and it is offered at an affordable price.
IRWIN Tools Heavy Duty Workshop Vise, 4-inch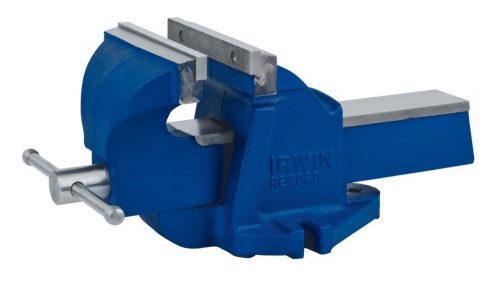 Providing more than 3,000 pounds of clamping pressure, the IRWIN Tools Heavy Duty Workshop Vise is perfect for the do-it-yourself or professional wood and metal worker. It is designed for light to medium duty projects. It has a dimension of 14.5×7×7.9 inches. It can be attached to a work counter with 3/8 inch carriage bolts.
The vise has a 360-degree swivel base that makes it easy to position, and it comes with an anvil incorporated into its construction. It has a safety stop, so the slide does not separate from the body. It is equipped with a fused steel handle, a 2.5-inch throat, and the ability to clamp up to 4.25 inches of material.
The vise weighs 15 pounds and comes shipped heavily greased to protect it from corrosion during transport. It has a good hammering surface and substantial teeth that are good for gripping materials. This product has received phenomenal bench vise reviews.
Performance Tool MV4 4-Inch Machinist Vise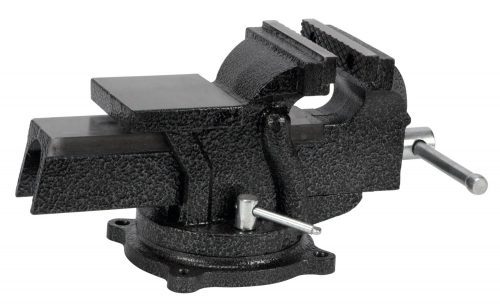 This is a heavy duty vise made from cast-iron construction. It has a pair of diamond-serrated jaws that provide secure gripping action. It is flexible and can be used for different applications thanks to its 180 degrees swivel base. It is a sturdy vise that weighs 11.1 pounds. It has a dimension of 1×4.3×1.7 inches.
It is the ideal bench vise for small drilling jobs. It opens to hold materials that are up to 2.5 inches thick. Some have complained that the vise comes shipped with minor burrs that can make it difficult to open and close and that can damage wood.
However, once these burrs are filed off, the vise works as advertised. Also, the thread is a little stiff right out-of-the-box, but after adding oil and working it back and forth, it has a smooth action. This is definitely the best bench vise for the money.
Grizzly G7062 5" Bench Vise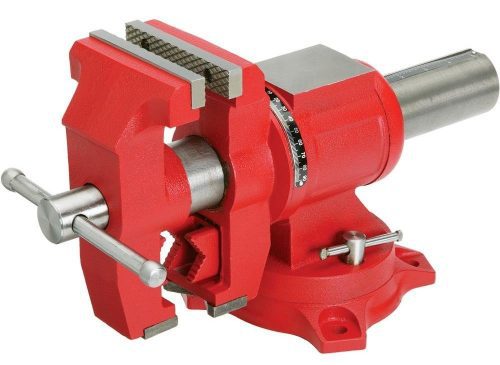 This is the last bench vise you will ever need to purchase. Equipped with a jaw that rotates 360 degrees, it has the ability to hold both round and flat materials firmly in place. It is a multipurpose bench vise made in the USA.
This is a beast, weighing in at 42 pounds and boasting 9×18×9 inch dimensions. You don't need to worry about slop while working with this sturdy vise. You are guaranteed phenomenal clamping strength. This is unquestionably the best bench vise under $100.
Two friction screws will allow you to swivel the bench vise into the position you want and then lock it in there as you work on your project. While the product does not come with mounting bolts, it is designed to support a half inch bolt.
Versatile and built like a tank, this little monster has an anvil that can take a good beating and is an excellent choice for someone looking for the best work bench vise on the market.
TEKTON 54006 6-Inch Swivel Bench Vise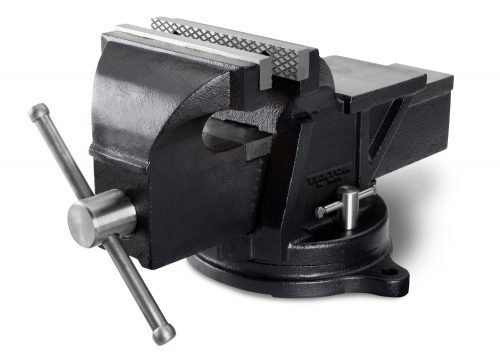 Cast-iron construction, up to 30,000 psi tensile strength, and a protective finish are just a few of the features that make this bench vise a tool to be reckoned with. It is designed to easily mount on your workbench. It can be used as a general purpose vise, or more specifically in a garage or shop setting.
The base swivels 120 degrees, allowing you to position the piece you are working with where you need it to be. It has a strong steel anvil that is perfect for hammering, bending, and shaping metal objects as you please. Its jaws close in a precise, flush, and even manner.
The screw adjustment mechanism is designed to adjust and clamp without play. You may want to purchase pads because the jaws are fairly sharp. It is a heavier vise that weighs 39.7 pounds, and it will take up some real estate on your counter as it is 15.2×7.6×8.8 inches. Many consider this to be the best bench vise TEKTON makes.
Wilton 21800 748A 8-Inch Jaw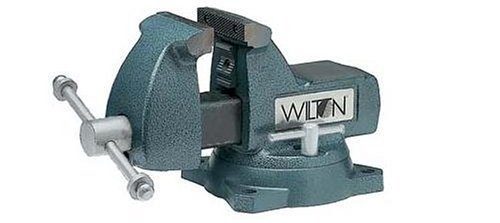 This is a super heavy duty bench vise that can be used to secure everything from wood to I-beam steel. You can pound metal with a sledgehammer on this beautifully machined device and it will not budge. It is a vise that your great grandchildren will still be using years from now.
With its 8 ¼ inch jaw opening and a throat depth of 4 ¾ inches, this vise is more than capable of handling anything you throw at it. Weighing in at 90 pounds, having dimensions of 16×10×10 inches, and being equipped with heavy duty 30,000 psi casting, it is perfect for every application.
It has a swivel bar that rotates 360 degrees, and it is equipped with two lockdowns, guaranteeing complete stability. It has a scratch resistant powder coat paint that gives it a tough and durable finish.
Ridgid 66997 F-60 Vise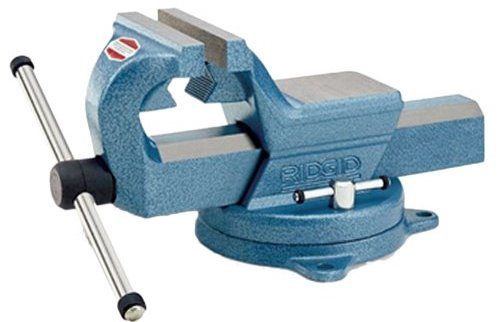 Take 70,000+ psi tensile strength forged steel, give it a proprietary parallel jaw alignment system, add on a steel handle and rubber pinch protection rings and you have a vise that can outperform all of the cast iron vises on the market.
Ridgid is so confident in the quality of their vises that they offer a lifetime warranty against any material defects or workmanship defects. It has a superior clamping range of up to 9 ¼ inches. It's anvil area is 4.7 inches by 4.3 inches, which, according to multiple bench vise reviews, is unusually large for a bench vise.
Each jaw is equipped with hundreds of diamond pattern teeth that align perfectly with the opposing jaw. When this baby gets a hold of something, you can't move it, even if you whack it with a sledgehammer.
When you turn the handle, you will immediately notice that there is no slop and the jaws respond immediately. Made with German precision, this may be the best bench vise you ever buy.
Shop Fox D4074 5" Bench Vise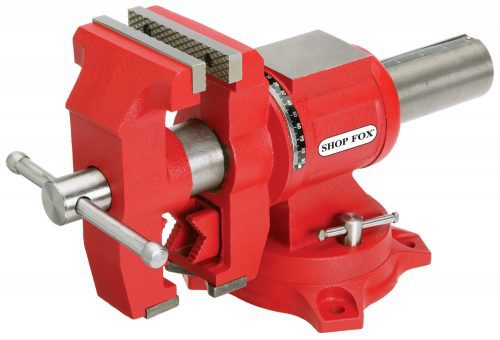 At 44.5 pounds and with 19×9×9 dimensions, this woodworkers bench vise is big and sturdy. Its jaws will rotate 360 degrees, allowing you to position it where you need it. It is able to hold flat and round stock since it has built-in pipe jaws. The base swivels, increasing its versatility.
The anvil face allows you to hammer and mold metal. A unique feature about this vise is that it has a tubular slide. This lets you rotate the piece you are working with vertically.
The scale that runs along the body of the vise allows you to tilt the piece you're working on a set number of degrees and to rotate your device in a number of workspace positions. This is a factor that has won this vise praise in multiple bench vise reviews. It is definitely a great buy for the money. You will not be disappointed.
Best Bench Vise Brands Reviews
For more than 73 years, Wilton has been creating bench vises for governmental, industrial, and private use. In 1941, its founder Hugh W. Vogl began manufacturing vises in a company that he named after the cross street where the building was located.
Their first four-inch vise was used strictly by the military in munitions fabrication. At the end of World War II, they became available to the average consumer. Today, Wilton bench vises are among the highest selling, most reliable vises on the market.
Models We Recommend:
The Wilton 11104 bench vise is an example of the affordable, quality devices that are produced by this company. It is made from high tensile steel, a swivel base with two locking mechanisms, and an ample anvil work surface. It sells for under a hundred dollars. It's low price and superior quality is commented on often in bench vise reviews.
The Wilton 11106 boasts the same high test strength steel, large anvil workspace, and lifetime warranty as its smaller counterpart.
Since 1927, Craftsman has been the brand of choice for professional and do-it-yourself craftsman who want a quality product. With more than 6,000 products to their name, Craftsman is the best-selling tool brand in the United States.
Models We Recommend:
An example of the high quality and affordable products they offer is the Craftsman 4-inch bench vise that comes equipped with a 180-degree swivel, reversible plates, a 4 ¾ inch jaw capacity, and a 4 ½ inch jaw width. It is made of iron and steel and weighs in at a hefty 19 pounds.
For around $120, you can find the larger 6-inch bench vise. It shares many of the same features as its smaller relative, including a reversible jaw face that is serrated on one side and smooth on the other. It weighs in at a hulking 37.5 pounds and features 17.6 x 10 x 7.1-inch dimensions.
Irwin has been making a name for itself in tool development since 1885. Their tools are designed to meet the needs of their primary user- professional tradesmen. They strive to improve their products by visiting job sites in the field and working with professionals to see how they can help them increase their productivity. This attention to detail is reflected in the vises they make.
Models We Recommend:
The Irwin Tools Six-Inch Heavy-Duty Workshop Vise. This vise is equipped with a 6 inch jaw width and a 4 ¼ inch depth. It weighs 32.2 pounds and has 18.1×9.8×9.8 inch dimensions. Sold for about $120 on Amazon, this vise is worth the price.
Irwin also has its T5 5 inch vise, which is designed for professional wood and metal workers and has more than 3,000 pounds of clamping pressure. It is perfect for heavy-duty jobs.
Since 1899, this German family-owned company has been a world-class steelmaker. In 1936, they introduced their first clamps to the world. Now, Bessey is one of the largest hand tool, clamp, and vise manufacturer in the world.
Models We Recommend:
Bessey BVHW45 Homeowners Bench Vise is a perfect model for do-it-yourselfers working on small to medium projects at home. It is inexpensive, costing under $50, and is designed to hold rectangular materials and circular items like pipes and tubes. It has a swivel base that allows the vise to rotate and has a jaw opening of 4 ½ inches.
The Bessey BV-DF6SB 6″ Heavy Duty Bench Vise is a heavy duty professional grade model. It has a 7-inch opening and can hold pipes from 1/8 of an inch to 4 ½ inches. It has a perfect parallel design with no slide or end play. It is a precision machined tool ready for professional use.
Starting in 1908, Yost began producing high-quality vises for professional and individual use. Their focus has been creating a product that is solid and dependable. All of their products must exceed the Standard of Federal Specification GGG-V-410A.
Models We Recommend:
Yost Vises 465 6.5″ Apprentice Series
This vise comes equipped with a 6.5 normal jaw and a 1/8 inch to 2.5-inch pipe diameter capability. It has a base that swivels 180 degrees and is made of cast iron. It's equipped with a flat portion that can serve as an anvil and as a secondary work surface.
If you're looking for something that is heavy-duty yet versatile, this is what you're looking for. It comes equipped with three sets of hardened steel pipe jaws. It is made from 60,000 psi ductile iron. It has a 5-inch jaw with a 5-inch jaw opening. It provides 9,000 pounds of clamping strength that guarantees when you put something in your vise, it's not going anywhere.
Olympia Tools is a company that has a storied history built on the back of forward-thinking designers and distributors. They produce high-quality tools for both do-it-yourselfers and the professional user. They have earned a reputation for greatness and back their products with a lifetime guarantee.
Models We Recommend:
This light to medium duty vise is made of hardened steel and features jaw faces that can be replaced. It is equipped with powerful pipe jaws and a 270-degree swiveling base. It adheres to your workbench or counter by its heavily reinforced base. It has a protective finish that prevents scratches and damage.
This is a 6-inch bench vise that shares many of the same features as the 4-inch model. It is slightly heavier, weighing in at 13.5 pounds, and it has a 7.5×15×8.8 inch dimensions.
Founded in China in 1994, Rockwell tools has developed a name for itself in the world of power tools, hand tools, and vises. In 2012, Rockwell tools became the official power tool of the Rockingham Speedway.
Models Recommend:
This is a wonderful, simple vise to use, especially when holding and clamping at the same time while working alone. It is a hands-free, bench top vise and clamping station.
It can be mounted on any standard stabilized workbench. It has a clamping range up to 16 inches, and it is designed to support over 220 pounds. The clamp has the capability of generating more than a ton of force. At less than $150, this bench vise is perfect for anyone looking for a quality product at an inexpensive price.
This is a foot pedal operated vise that has one ton of clamping force. It is equipped with a lock release switch that can lock materials in place and can be easily released by simply flipping a switch.
The jaws extend to 37 inches, so it is perfect for clamping larger materials. It has a tripod base, which means it is stable on all terrains. The front legs have holes that allow it to be fastened to the floor for permanent jobs.
Since 1983, Grizzly Industrial has grown to be one of the largest machinery companies in the USA. They design bench vises for industrial construction as well as smaller one-man shops and do-it-yourself projects.
Models We Recommend:
The Shop Fox D40745 Multipurpose Bench Vise
This is a medium duty bench vise that weighs 44 ½ pounds. It has a 5-inch maximum jaw opening, full 360 degrees rotation, and boasts a solid construction. It has a swivel base for increased versatility and an anvil face top for hammering and molding metal.
With a 360 degrees swivel, a 4-inch jaw, and the capacity to hold 3.75 inches of material, this vise is perfect for small drilling jobs. It is a solid, heavy vise that is ideal for working on guns, wood, and other small dimension pieces. It has received stellar woodworking vise reviews.
Ridgid Tools have developed a reputation the world over as industry-leading tools and vises that let professionals complete their jobs quickly and reliably. Ridgid prides themselves on evolving technologies to help builders solve today's problems.
Models We Recommend:
This heavy-duty bench vise is constructed from steel that has been forged to a tensile strength of more than 70,000 psi. It uses a proprietary jaw alignment system. It has a steel handle equipped with anti-pinch rubber rings. It has a phenomenal clamping range, opening to 8.8 inches and has a large anvil area of 4.7×4.3 inches. It is perfect for even the most rugged jobs.
This product is designed for mobile basis. Manufactured with German precision, it boasts more than 70,000 psi of tensile strength thanks to it being constructed with forged steel. It has a jaw width of 4 ¾ inches and a profile height of ¾ inches. The jaws are designed to meet together as perfect complementary mirror images. The precision of this vise is worthy of admiration.
What Is a Bench Vise, and Why You May Need It?
A bench vise is defined as a holding device that is connected to a workbench. It is made of two jaws that open and close to hold a workpiece securely in place.
Bench vises are very useful tools that can be purchased at hardware supply stores and online at companies like Amazon.com. There are multiple styles to choose from, including a machinist vise, a mechanics vise, a post vise, and woodworkers vise.
A bench vise is a versatile tool that can be used for working with wood, metal, and other materials. It allows you to stabilize the materials you're working with to perform precision cuts and drilling. The following are some of the things a bench vise can be used for. This is by no means a comprehensive list.
Gluing
A bench vise will help you glue a woodworking project. Using a vise is better than relying on gravity to hold your project together. You can put your project in a vise and leave it alone, knowing that it will not move until the glue is completely dry.
This is a huge advantage when working on a project that demands precise measurements and gluing so that the parts will fit together properly. There are many woodworking bench vise reviews where carpenters discuss how much easier their work is after they use a vise.
Metal Working
Bench vises can be used in metalworking to bend metal, to hold metal securely in place when it is being cut and can be used as an anvil for straightening out metal pieces.
When Working with a Saw
A wood bench vise is the most reliable way to keep a piece of stock in place while cutting. A bench vise is the perfect solution for anyone who has ever had trouble trying to use a saw freehand and who has imagined a better way of holding lumber in place.
Using a Drill
A bench vise is a must when completing a drilling project that requires precision and stability.
Using Sandpaper
Finishing up a wood project with sandpaper takes a lot of time regardless of the set up used. However, buying the best bench vise can minimize the time it takes by allowing you to secure the material firmly without using your hands and without needing to struggle to get into an awkward position to sand the material properly.
As we mentioned, these are just a few of the uses for a bench vise. After you purchase and install one in your workspace, you will undoubtedly find more ways to use this versatile tool.
How to Use a Bench Vise
It is not uncommon for people to refer to their vise as a third hand. This is because vises hold the workpiece or a material in place, allowing a person to use both hands to perform their job.
Vises are used for a wide range of works performed by machinists, tradesmen, and mechanics. Vises come in a variety of sizes and come equipped with either a stationary or a locking swivel base. The two primary factors that distinguish one vise from another are its jaw opening and tensile strength.
Using a Vise Safely
When using a vise in conjunction with a striking tool or a power tool, safety is a must. This includes wearing a face shield or goggles. Make sure that your vise is securely attached to the workbench or counter you are working on. There must be bolts in every one of the holes in the vise's base. Lock washers and nuts should be securely tightened. And the workbench should be securely attached to its base.
Prior to clamping a workpiece in a vise, review the jaws for damage or cracks. Make sure the opening of your vise is wide enough to hold the piece you're securing without strain. If you are working with an extra-long piece, you may need to use an adjustable stand or a sawhorse to support the end. This will take additional strain off the vise.
Be sure to clean all threaded and moving parts on your vise. Keep it lightly oiled, and remove any debris and dirt. Replace any worn-out jaw inserts or bent handles. With proper care and maintenance, most vises will last for decades.
Heavy Duty Bench Vises
A heavy duty bench vise is often made with iron. This allows it to withstand heavy applications and frequent use. A heavy duty vise can be also referred to as a machinist vise. Common features include serrated steel jaws, an Acme thread main screw, and a precision slide bar.
Most heavy benches will come with a second set of replacement jaws that you can install when the first one has worn out. When purchasing a heavy duty bench vise, you will have the option to select one that is stationary or one that turns on a 360 degrees swivel.
Heavy Duty Vises We Recommend:
The Irwin Tools 6-Inch Heavy-Duty Workshop vise comes equipped with a 6-inch jaw, a 4 ¼ throat depth, and a 8 ¾ inch clamping capacity. It has a safety stop to prevent the slide from being separated from the body, and it offers more than 3,000 pounds of clamping pressure.
The Wilton 21800 is another option for a high-quality, heavy-duty bench vise. It has an 8-inch jaw with an 8 ¼ inch jaw opening, along with a pipe jaw capacity of between ¼ inch and 3 ½ inches.
The Yost Vises FSV-4 is a heavy duty vise that offers a 360 degrees swivel base, a body made from forged steel, and has a powder coated paint finish that is weather resistant and scratch resistant. Its jaws are made from hardened steel and are grooved to improve grip.
Mini Bench Vises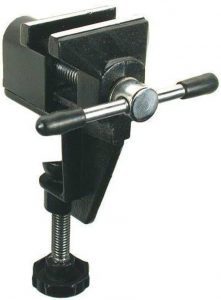 As its name implies, a mini bench vise is a small vise that can be used to work on things like jewelry, circuit boards, and delicate wiring that need to be held in place, but do not require or could not withstand the pressure exerted by a medium or heavy duty vise.
Online bench vise reviews attest to the fact that miniature vises are not designed to hold the pieces that will be pounded on by a hammer. They are the best vise for lightweight precision work.
Models We Recommend:
This bench vise secures quickly to tables, a workbench, counters, or any other surface edge. It is perfectly designed to hold flat or round objects. It weighs 5.6 ounces and has a 1 x 1 x 1 dimension. It is perfect for holding jewelry or delicate wiring.
The Jewelers Mini Bench Vise 1.5 Inch Clamp Tool
This miniature vise is made for delicate metalworking, jewelers, and hobbyists. It is easy to mount to a bench using the built-in clamp. It has a 1 ¼ inch jaws and can open to 1 ½ inches.
Portable Bench Vises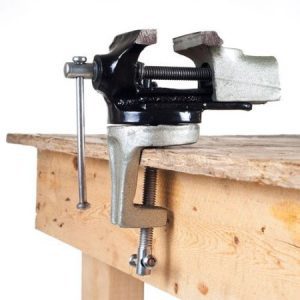 Portable and bench vises are two phrases that do not seem like they should go hand-in-hand. However, many companies are creating some of the best vises that are small and designed to easily connect and detach from your workspace.
They are versatile, save space, and allow you to work wherever you are. The online bench vises reviews about these portable products are phenomenal.
Models We Recommend:
The Wilton Tool 10010 Truck Vise
This vise is designed to be mounted on a bench or to the trailer of a truck. It has a 360-degree locking handle that secures the handle while driving and allows you to reposition it while working. The vise weighs 33 pounds and comes out of the box ready to use. This 6-inch vise is sturdy enough to work as an anvil for bending and shaping jobs.
This Swedish made vise has the ability to clamp unobtrusively on any table using an alpha style bar clamp. While it is designed to be used in woodworking, there is no limit to its applications. When the jaws are closed, the device measures 14 ¼ x 14 ¼ inches. It weighs 14 pounds and 12 ounces. Fully extended, the jaws open to 4 5/16 inches.
Tips on Choosing the Best Bench Vise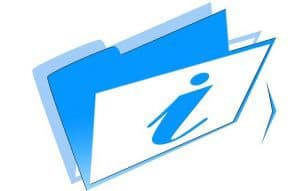 A good bench vise will hold your work steady as you pound, bend, cut, drill, and saw. It is a must-have in any workshop. Before selecting the vise you will use, there are a few pointers to keep in mind.
Jaw Width/Opening
Select a jaw width that fits your needs. If it is too small, you're going to be frustrated because you will not be able to finish those heavy-duty projects. If it is too large, you will damage the materials you are working with.
Mounting Styles
Some light-duty vises are adhered using a suction cup or a clamp. This may work fine for light applications, but is going to do you no good if you're doing heavy-duty work. For projects like these, you want to make sure that your vise is secured to your workspace by three or four bolts that are no smaller than 3/8 inch.
How-To: Take Apart, Lube, & Mount A Bench Vise
Pipe and Bench, or Combo
Again, this comes down to what you want to secure on your bench. A serrated bench jaw can hold pipe and rectangular objects. A pipe jaw is great for holding pipes, but it can't hold anything else. A combination jaw can handle both and is often the best bench vise for your workstation.
Price
As with all things, you will get what you pay for. If you purchase an inexpensive vise, you will save money in the short run but will expect to purchase a new vise in short order. On the other hand, a high-quality vise is guaranteed to last for decades.
Where Should You Buy a Bench Vise?
There are a lot of brick-and-mortar hardware stores, such as Home Depot, Lowe's, Ace Hardware and True Value, where you can find a bench vise for sale.
These brick-and-mortar hardware stores have the advantage of allowing you to actually touch the vise, play around with it, and make sure it's what you want. The disadvantage of buying from a brick-and-mortar hardware store is that you will often pay a substantial markup.
There are a lot of online stores, like Amazon.com, where you can buy a cheap bench vise that is of high quality. Amazon is famous for offering discounts on its products.
In fact, you can set up alerts for the vise that you want to purchase and receive an email when the vise is at the price you want. And although you are not able to touch and hold the vise when shopping online, you are able to read multiple bench vise reviews.
These will give you a clear picture of the quality of the item you are considering purchasing. Another option is to visit a brick-and-mortar store, find the model that you like, and then see if you can purchase that same model for a less expensive price at Amazon.com or at the manufacturer's website. In most cases, purchasing a bench vise online is a lot better than buying it at a hardware store.
It is good to do your research when you choose to buy a bench vise, be it online or from the retailer. A good bench vise will last you for the rest of your life.
Decision Time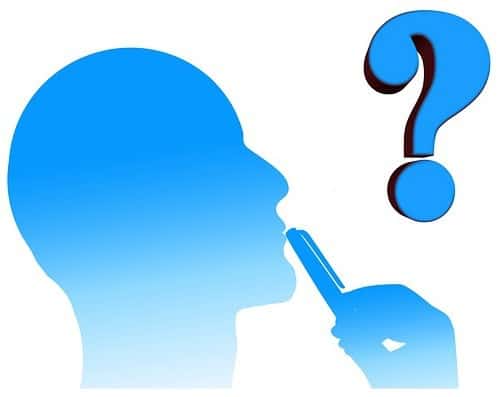 Whether you are doing a do-it-yourself project at home or a professional job for clients, having a bench vise, and having the right bench vise, will make the difference between a quality product that you are proud of and a product that has defects you are ashamed of.
Online bench vise reviews are full of testimonials of individuals singing the praise of their bench vise. In order to make sure that the quality of your work reflects who you are, you need to buy a bench vise that is of a high enough quality that it lets your work shine through.
Take the time and do the research before you buy. Just because a vise is expensive does not mean that is going to the highest quality. On the other hand, a less expensive vise might be exactly what you need.
Working without a quality bench vise is foolish. You risk hurting yourself, damaging your product, and lowering your accuracy. You have read the information, seen the reviews, and now is the time for you to act. Purchasing a quality bench vise is something that you will never regret.