As a professional painter I have had the pleasure of working with some very creative minds when it comes to painting homes.  The experience I have gained about exterior paint ideas is something that has helped me give ideas becomes a valuable asset to my clients.
One thing that has helped me the most is giving ideas to help these owners depending on a particular home style.  While some paint ideas will work with any type of home, I'd like to cover some of the best ideas that I have found for particular homes.   Here is a list with a corresponding picture for 8 different styles of dwellings.
Exterior paint ideas for brick houses
Many owners of brick homes, especially in the "wealthier" neighborhoods that I work in are choosing to paint their brick homes to add style to their homes.   While the traditional brick is still a popular choice, painted brick has really taken off in the last 10 years.
Many people have used paint sprayers to quickly spray brick and the results are great.
When painting brick there are a number of different color schemes that look great. Below are just some of my favorite exterior paint ideas on brick homes.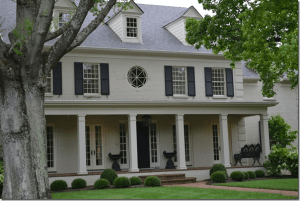 Many people love to use shades of gray to lighten up their brick homes. Above is a great combination of gray with the black shutters and furniture.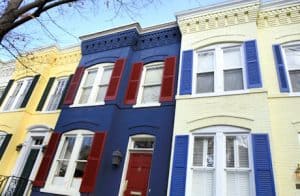 I like to call these the Dr. Seuss houses as they more and more neighborhoods have added bright colors to their building.   These bright colors are not only popular for condo's and apartments but also in large neighborhoods.
Exterior paint ideas for beach homes
Living in the Charleston, SC area I have had the pleasure to paint several beach homes over the last few years.  Typically when being called upon by the owners of these homes, there are two choices that home owners are looking for when painting their beach home.
The Rental Beach Home– I'd say that 70-80% of the homes that I paint are owned by a rental property company and are used solely for the purpose of as a rental income.  Typically these owners will look for something traditional as shown below.   The goal of these types of owners is to appeal to the masses and these are seen best by using the popular colors below.
The Home Away from Home– The other 20% or so of owners that I work with have a beach home and use it solely for a second property to use throughout the year.  Most of these beach home owners will live in their beach home for a few months a year, or several times sporadically throughout the year.  A small percentage of these owners live in theses beach houses permanently.   These owners tend to go totally opposite from their traditional home and go for the all-out beach look.   Here are some of the favorites below.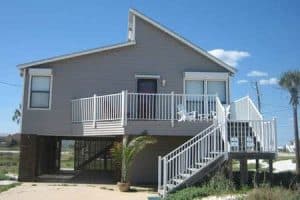 Many beach rental homes stay with traditional colors such as white and gray to appeal to the masses.  In some areas, beach homes will have tin roofs which will involve a different type of painting style.
Besides painting the exterior of the home,  many of these beach homes come with rocking chairs, and other outdoor furniture that look great when they match the paint of the house.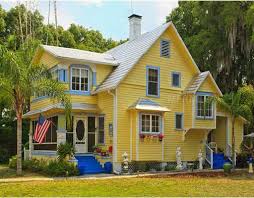 Many beach house owners that are building their "home away from home" tend to spruce it up with bright colors.
Exterior paint ideas for Cape Cod homes
Originating in New England in the 17th century and becoming popular again in the middle of the 20th century, many readers are familiar with living and buying Cape Cod homes.  While many people prefer the traditional white and light blue colors of the traditional Cape Cod homes, more and more people are choosing non-traditional color methods to spruce up their home.  Below are some of my favorites.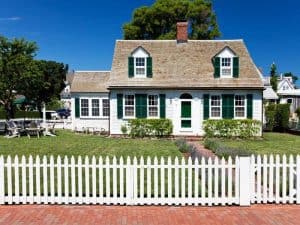 Traditional cape cods are usually white with dark shutters.  The picture above shows a one of these with a matching fence.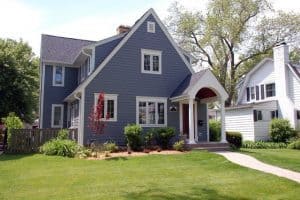 Dark blue with white trim is another popular color scheme among people who have Cape Cod homes.
Many of these homes come with beautiful wooden fences that can also be painted to match the home.   Painting the fence to match the door or shutters is a great look for these types of homes.
Exterior paint ideas for campers & RVs
While I don't have a ton of experience painting campers and RVs, I am an avid sports fan who sees awesome painting jobs on campers and RVs at various college and professional tailgating parties.
While a traditional painting job on a camper is still very popular, others are looking to customize their camper, here are some from some of the best fans around the country.
Unlike painting a home,  if you are painting any type of vehicle you will want to invest in a quality automotive spray gun as you are working on different material.  For a list of some of our favorite auto paint guns click here.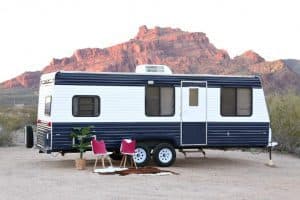 A fresh paint job on a camper is a great way to spruce it up and make it look brand new.  Many retirees buy and spruce up campers as they spend their golden years traveling the country.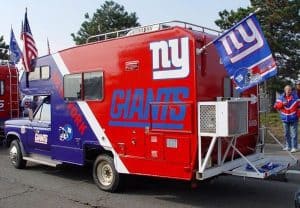 Above is just an example of an awesome paint job on a RV.  NFL and NCAA football fans seam to have the best exterior painting for RVs that we have found.
Exterior Paint ideas for Mobile homes
Campers and mobile homes often vary in the way that they are painted.  While many people traditionally use campers and RVs as an extra dwelling, many people use a mobile home as their primary home.  While most mobile homes use traditional white and light blue colors, more and more people are trying out more "non-traditional" methods when painting their mobile home.  Here are a few of the best ones that I have found.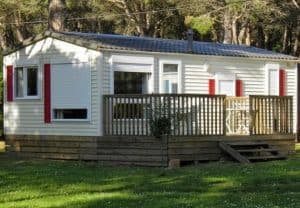 Traditional mobile homes are painted very similar to regular homes.  This home is painted white with bright red for shutters.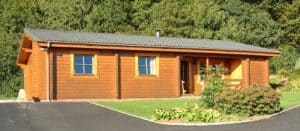 Mobile log homes and modular homes are among the most popular new trends.  Painting a log home can be a great way to spruce up the look.
Exterior paint ideas for modern homes
One of the great things about today's modern homes is more and more people are using a wide variety of colors to separate their homes from their neighbors.   While most housing developments in past generations went for a traditional look, a new trend has contractors specializing in building and painting bright and beautiful color combinations.  Here are some of our favorites that we have found and enjoy.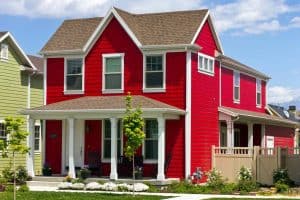 Many bright new neighborhoods are popping up all over the United States.  People seem to love the different options on these homes.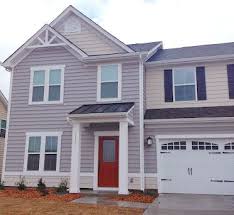 Sprucing up a modern home with the addition of bright door is just one of the ways that builders are going when building new homes.
Exterior paint ideas for ranch style homes
Ranch style homes are very popular for those looking to add a fresh new painted look to their home.  Because ranch homes are much shorter than other two story home models, more and more DIYers are choosing to paint their own home.  The younger generation is adding some creative new painting ideas to the mix and this has taken off in all parts of the country.  These are pics of some of my favorite new ranch paint jobs.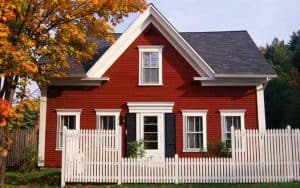 One great way to spruce up a traditional ranch home is to add a bright color such as this red that is used on this home.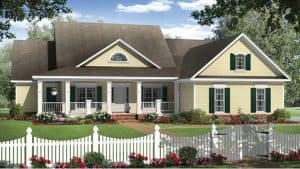 The traditional ranch home styles never go out of style.
Exterior paint ideas for stucco homes
A very popular model in homes in Texas, California and other Southwestern states, stucco is liked for its durability and low maintenance.   Stucco is hugely popular among the Latino community as it has a long heritage among Spanish style homes.  While many people choose not to paint their stucco, more and more people paint their stucco on a regular basis.  Here are some of our favorite stucco paint ideas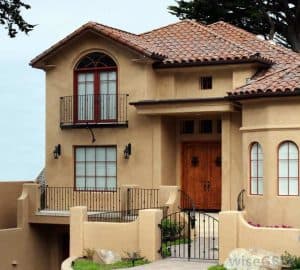 Traditional Spanish stucco homes are very popular in Texas and other Southwestern states.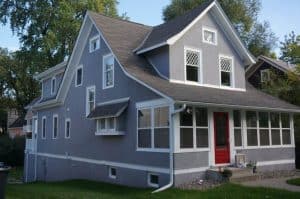 Many stucco homes up north are choosing to use a variety of paint colors to spruce up their home.
Exterior Paint Ideas for Victorian homes
When one typically thinks of Victorian homes, the first thought that comes to mind is a large 3 story homes that are very popular in the United Kingdom and other European countries.  While this is true, many homes in the United States are built in the Victorian style.  Here are some of our favorite paint jobs on Victorian houses.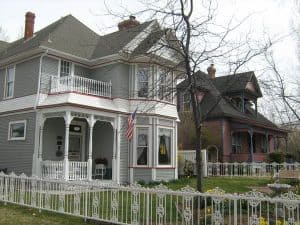 This is a classic look for a Victorian home.  The gray exterior looks great with the scarlet and white trim.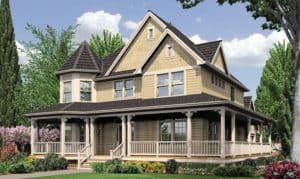 This Victorian style home adds an elegant vintage look with a fresh coat of new paint to give it a great new look.
Final Thoughts on Exterior Paint Ideas
As you can see there are some great paint ideas that are being utilized on homes today.  As a painter, I have seen the pride that home owners and painters take in creating and implementing new ideas.