One of the most emerging trends in the paint industry in the last few years is chalk paint.   People love chalk paint (especially parents) and  I will often get a questions like how to paint with chalk paint?  What is the best chalk paint?, etc.   With that being said, I feel that I would like to to write a brief article on some of the most popular chalk paints that are used today and how to incorporate chalk paint with your paint sprayer.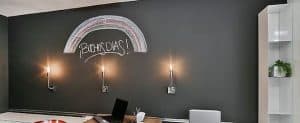 Investing in chalk paint
While the original idea behind chalk paint, was to be used on children's rooms for a cool alternative to traditional paint,  more and more people have liked the idea of using chalk paint for other items.   Like any paint,  not all chalk paint is created equally and I would like to give my choice for the best chalk paint.
The chalk paint that I use on almost any interior project is the Renaissance Chalk Paint brand.  This paint not only works great in paint sprayers, but can be used to paint almost anything in your home.  To check more reviews on Renaissance and details about the brand, please click below to see what others are saying about this brand of chalk paint.
How to Paint with Chalk Paint & a Sprayer
When it comes to decorating your home, nothing quite speaks for itself like a unique piece of furniture. Making something that is unique can add its touch and flair to any room. Making and revamping your decor can make it as 'you' as you would like it to be, You can tailor it to be whatever style you would most want.
But with all the numerous DIY tutorials that we see every day while scrolling through our news feeds, a lot of them can end up as disasters rather than being a beautiful piece of art. DIY's can also be super cost effective, but when you end up having to re-do something just because you messed it up the last time, you may end up spending a lot more than what you were to buy the piece from a store.
As a DIY lover, we often have to take a step back and realize what we can and can't do, and which projects may turn out to add the extra oomph factor to your home. One DIY which is bound to work just because of the sheer ease of it is spray painting with chalk paint.
Why Chalk Paint?
If the thought of chalk paint being only meant for blackboards is running through your mind, think again. Chalk paint is soon becoming the new fad to revamping your home and making old furniture look new again. Chalk paint comes in a variety of shades and colors and is one of the easiest forms of color to use. Using this DIY method can up your decor game by a notch giving you unique furniture worthy of praise.
Using a Paint Sprayer with Chalk Paint
Chalk paint can used pretty quickly and efficiently with the help of a spray gun. Traditional spray guns usually use water based paints which can be pretty messy.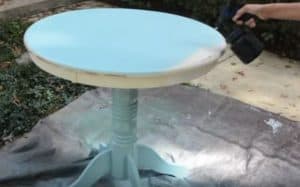 Using chalk paint in your spray gun is a good way to make your home a much more colorful place.
Matte Finish FTW
Using Chalk Paint has some benefits linked with it. For starters, Chalk paint is available in a variety of colors, with glitter and sheen options also available. Without add-ons, chalk paint mostly gives your furniture a matte finish. Most other types of paints give furniture a look which can end up being too glossy or too shiny, taking away from the overall look of the piece. However, a matte finish makes home decor items like furniture and decorative items look classier, and can make even a cheap piece of furniture look like an uber expensive one.
Sprays Over Brushes
When painting in the tradition way, people tend to use brushes to paint on with. When painting over an incredibly detailed piece of furniture, it becomes mandatory to use a small paintbrush while painting all those intricate spaces. This results in a person having to use different brushes for one piece of furniture, making the whole painting process a bit of a hassle. With a spray gun, the chalk paint can reach all those nooks and corners to ensure that the furniture receives an all over better coverage.
DIY Chalk Paint
Because chalk paint isn't like water based as other paints, it does not take a long time to dry. When you revamp a beautiful piece of furniture that you are proud of, it is but natural to want to show it off to all your friends and family. But with conventional paints, you may have to wait sometimes for as long as a day before you can start to properly use the piece of home decor. It can be annoying to eat, and that's why chalk paint is so useful. Chalk paint takes not more than ten minutes for each coat to dry properly. If a fast and effective DIY is what you are on the lookout for, then chalk paint is the answer to your painting woes.
Superior Finish
With being so simple and yet so effective, using chalk paint should be on every creative person's list. With the smooth finish that chalk paint gives you, painting jobs are so much easier. In addition to this, when using chalk paint, the piece may only require two to three coats of paint depending on the base color. This means you don't have to keep going over and over the piece with a paint brush, again and again.
Any Surface, Any Piece of Furniture
Chalk paint can be used to decorate almost anything – be it furniture, or your walls. Not only does it give almost anything a great finish, but it also gives it a feeling of looking new, which is something that's a win-win itself.
How to Make Your Own Chalk Paint
In this example, we have an old dresser, Let's say you want to give it a new feel and color and make it worthy of being as beautiful as you are. The steps below should guide you on how to go about pulling off this DIY.
Even though we are using a dresser as an example, as mentioned earlier, chalk paint can be used on almost anything. Using the same technique, you can give new life to anything in your home.
You will need:
• 1 spray paint gun (preferably a high-volume and low-pressure spray)
• 1 chalk color of your choice
• 1 Chalk paint thinner (if the brand you are purchasing requires you to water the chalk down)
For your, and the protection of your home:
• One paint mask (even a dust mask would do if you happen to have one lying around)
• One large plastic sheet to cover the area which you will be painting on.
• 1 pair of gloves

Optional
In case you are planning to add more painting detail to your furniture, you will need more than one color of paint. This entirely depends on your choice and preference and is completely optional.
                                                                               How to Paint with Chalk Paint – A Quick Overview
For this project, we are going to be using an old dresser with a wooden base. The color which we are going to use for this is a white base. Additionally, we will also be adding slight pink decals on the dresser to make it look even nicer.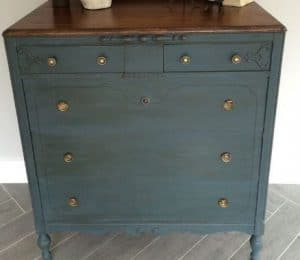 Step #1 – Setting Up Your Gun
First, we can start out by putting the paint into the paint compartment of the spray gun. If your paint needs a primer or a toner, you should mix those in a separate bowl first and then pour it into the compartment.
Usually, it will be mentioned on the box whether or not the chalk paint you are using requires anything addition, so be sure to check first before putting it into your spray gun.
Step #2 – Clean Base, Dry Base

Next, you need to make sure your surface is clean and completely dry. Running down the surface with a microfiber cloth is a good way to go before starting.

Step #3 – Protection
At this point, make sure that you are wearing your mask and gloves and the sheet is placed on the dresser. If there are too many things in the room, it is better to cover them all up, including the walls. Alternatively, doing your spray painting outside in your yard is better as it saves you the additional trouble.
Step #4 – Ready To Get It On
Now, get ready for the action, pull the trigger and fire.  If you need any tips on how to properly use a paint sprayer,  this is a great article on the subject.  Spray the dresser with the white paint. You may need to give it around two coats for the color to properly show on the furniture. Wait two minutes in between two coats for the surface to dry off.

Conclusion
Now that we have seen the correct way of how to paint with chalk paint, the reasons why you should use chalk paint and our picks for the best chalk paint I hope this will help you with all your questions on the subject.   Thank you and I hope you enjoy this and our other informative articles on our website.