Finding an affordable paint sprayer in 2017 is something that almost any DIY'er is looking for when shopping for painting supplies.    While saving money is important, time and a quality product are also very important.
When looking for the best paint sprayer for a low cost there are a number of factors to consider.   These include the price, the purpose of spraying,  and how much time do I have to invest.    With that being said,  not all prices of sprayers match the quality.   Below is an interactive chart with  some of our picks for the best paint sprayers for the money.   
Why You Need an Affordable paint sprayer
From the table above I have gone into detail with each of the sprayers that I have chosen as my best priced spray guns. Below are honest reviews on each sprayer and what are the best uses for these sprayers.These spray guns are in no particular order but just the top 5 low priced spray guns that we recommend.   
Wagner Power Painter Plus with EZ Tilt Paint Sprayer
This particular paint sprayer is able to paint three times faster than using a brush, and is great for large scale projects. It is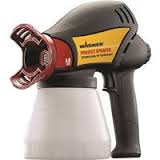 also able to spray paint at any angle, due to a flexible tube that makes it very easy to spray hard to reach areas. It weighs six pounds, which is near the average weight of other paint sprayers on the market. The Wagner Power Painter Plus with EZ Tilt is also very affordable and costs less than $100 and has a one year limited warranty.
Best Uses:   The best uses for the Wagner paint sprayer are basic around the house painting projects.  Bathrooms, kitchen cabinets,small furniture and other small "weekend warrior" projects are right in this paint sprayer's wheelhouse.  
Graco TrueCoat 360DS Paint Sprayer
This spray painter is more expensive than the Wagner  Power Painter but delivers a very smooth finish without thinning the paint. It also offers dual speed control, which limits over spray and makes it easier to control the flow of paint. This paint sprayer weighs nearly five pounds, making it a very manageable weight. The maximum pressure is 1500 PSI. The Graco  TrueCoat 360DS Paint Sprayer is usually priced around $150 and has a one year warranty.
Best Uses:  I would recommend the Graco Truecoat 360 for larger jobs.  Think jobs that may take a few weekends or perhaps a week if you have off.   Painting multiple rooms,  ceilings or even a garage are some of the best types of jobs for the Truecoat.  Coming from the paint sprayer giant Graco, this is one of the most affordable paint sprayers that they offer, while also staying high quality.  
HomeRight Finish Max Fine Finish Sprayer
While I have never used this particular model,  one of my painting associates uses this HomRight Finish Max and says that he loves it for the price.   It is adjustable to three unique spray patterns, which includes vertical, horizontal, and circular. It also sprays very evenly and will leave a professional finish. Weighing only one pound, it the lightest sprayer on the market. The price is usually around $60 and is much cheaper than it's competitors. It also includes a two year limited warranty.
Best Uses:  While my associate has several different paint sprayers, he likes to use this one as something he can "throw in his trunk" and touch up small jobs whenever needed.  If you are looking for a paint sprayer to have around the house or to touch up previous painting than this is the right choice for you.   
Wagner Control Spray Max HVLP Sprayer
This is a very useful paint sprayer that is lightweight, and is easy to use in very tight places. The air hose can reach up to twenty feet, which offers plenty of length. You can also control the flow pattern from one to ten inches. This greater amount of control makes it very easy to do large scale or very small detail work. It weighs around 11 pounds, which is significantly heavier than the HomeRight Finish Sprayer. It also has a one year limited warranty coverage, which is very comparable to the other paint sprayers on the market.
Best Uses:  If you have read any of our other articles, you know we are huge fans of the Wagner Control Spray Max HVLP Sprayer.   The Control Spray Max does it all and is in fact our choice for the #1 most affordable paint sprayer.   Please see one of our previous posts on everything that the Control Spray Max is good for and how it can help you.  
Wagner 0529010 Flexio 590 Indoor/Outdoor Hand-held Sprayer Kit
The Wagner Felxio 590 Indoor/Outdoor sprayer is very versatile and is used for small projects. It has an adjustable flow rate, which makes it very easy to spray at the pace that you feel most comfortable. The nozzle is able to be adjusted to either horizontal or vertical patterns.
You can also choose how narrow or wide the patterns will be, and it is able to spray up to eight gallons per hour. The X-Boost Turbine is extremely powerful compared to the other paint sprayers. It is also equipped with iSpray technology, which provides a much higher rate of airflow for a more professional finish. This product is normally priced around $130. This is not a bad deal, considering it's unique qualities, compared to the other paint sprayers. It also has a one year warranty if you do encounter any problems.
Best Uses:   This is one of model that I have only seen used briefly by a fellow painter, but I think it has great value for the price.  One reason I love this model is the iSpray technology, as it does produce a ton of power for the low price.   I would think this would be a great choice for those who are painting a fence, a deck or any type of wooden furniture.  
As you can see, you have a wide variety of quality paint sprayers to choose from on-line. Each one has it's own unique qualities with advantages and disadvantages. These five paint sprayers range from $60 to $150, which makes them very affordable. You will not go wrong with any one of these paint sprayers, and they will make your home projects much easier.
(Bonus) Spray Painting for Beginners
Once you have decided which paint sprayer to purchase, you will be able to plan for your new project accordingly. If you have never used a paint sprayer before, here are a few tips that will make the learning process much easier.
First, if you plan to paint outside, only spray paint in temperatures between 45 and 75 degrees. If it is too cold, the paint will dry very slowly. This increases the chance that dirt or other particles will be mixed into the paint, which will greatly affect the quality. Never paint in direct sunlight because the paint will dry too quickly and not bond very well. Avoiding these common mistakes will make the learning curve much easier as you begin spray painting.
Secondly, protect any areas nearby that you do not want to be painted. This is especially important if you are new to spray painting because you are more likely to make mistakes as you are learning. Always stir the paint very well before use, as this prevents any clogging. Once you begin to paint, always maintain the same distance, as this will apply the paint in equal amount of areas. Most professionals suggest holding the spray paint equipment one foot away from the object that you are painting.
Third, be prepared for your daily painting.  If you are using a battery powered paint gun,  be sure to have it fully charged.  If you are using multiple guns, make sure that you have a cleaning system in place.   Always have a backup plan in case your paint gun jams or malfunctions.
As you may know, most painters begin spray painting near the edges and then finish with the larger area. It is also a good idea to not spray the paint too heavily or it may cause the paint to peel or dry unevenly. On the other hand, if you apply too light of a coat, you can always go back and add the right amount.
As you continue to practice spray painting, you will continue to improve, and will become more comfortable in just a short amount of time. Thanks for reviewing our article on finding the most affordable paint sprayer for your job.  If you are interested in learning about more reviews or how to paint certain items, feel free to review other pages on our site.