Last Updated: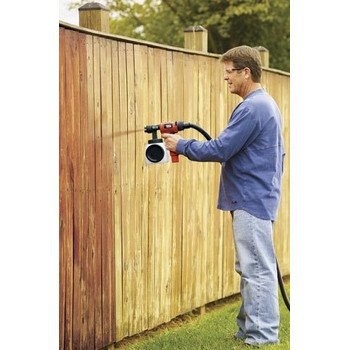 HVLP stands for High Volume and Low Pressure which is the basis of the technology in HVLP sprayers. A good HVLP spray gun is quite different from an airless sprayer because instead of focusing on quantity, it gives finer production. Unlike traditional paint guns which operate over 10 psi, most HVLP spray guns are at 10 psi or below. Because the pressure is low with these sprayers, there is no problem of overspraying and little to no wastage occurs with the paint.HVLP sprayers are typically used for indoor projects such as painting cabinet, interior walls and other household objects where excessive overspray can be harmful.  For outdoor projects such as painting a fence, driveway, or paint a house many people choose to use a traditional paint sprayer. Here are some things to know about the best HVLP paint sprayer.
Uses a Regulator – While average sprayers use compressors to deliver the paint from the nozzle to the surface at high pressure, the best HVLP spray gun would have a regulator that can control the flow rate. This means better transfer efficiency that would also be helpful to the environment, plus a more controlled coating.
Better Efficiency – The enhanced transfer efficiency is due to the low-pressure regulator of HVLP sprayers. These sprayers are meant to work with smaller doses and, as such, they do not lead to any paint wastage. If you are worried about the amount of wasted paint with airless sprayers, you should use the best HVLP sprayer instead.
Viscosity Of Paints – In airless sprayers, the paint viscosity doesn't matter because you can have thicker paints (like latex) and there is no need to thin them. Why? Because they work with high pressure. With HVLP sprayers, however, the thicker paints cannot be supported because the pressure at the nozzle is around 10 PSI with average HVLP sprayer models.
Finer Production – The production is much finer with these sprayers and you can actually see a difference in the results when you are working with stains on woodwork. Plus, HVLP sprayers use the concept of atomization, unlike other sprayers, which further improves the results. For touch-ups of projects, most professionals use HVLP sprayers for best results.
Portability – These sprayers are most apt for working on smaller areas because they are not capable of covering a large area in a short time, like airless sprayers. However, they are extremely portable in nature and are easy to carry around because of their lightweight design. They also prevent choking inside the hose of the sprayer which makes them quite efficient for quick, small jobs.
Factors & Features To Consider When Buying An HVLP Paint Sprayer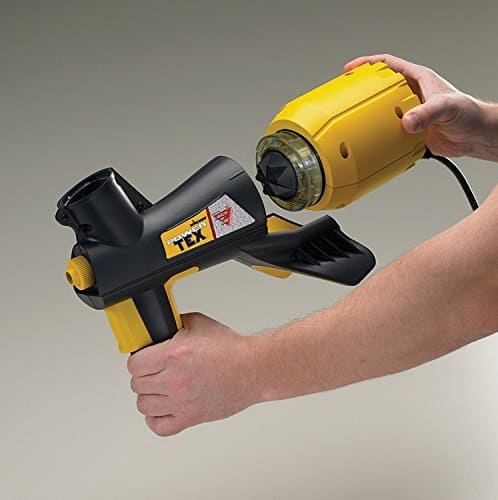 Simply making sure that your best option has an amazing HVLP sprayer review is not always enough. There are many factors to consider that can ensure you are putting your money to good use. After all, this is what your HVLP sprayer comparison would be based on – how different models rate on these top factors. Here are some factors to keep in mind while going through HVLP spray gun reviews –
Compressor and Turbine – HVLP sprayers that work using an air compressor easily achieve a fine mist of spray that has a great finish. You also have the option of turbine units which have become quite popular recently.
The turbines add a great amount of portability to the sprayer and, at the same time, make it more efficient because the hot air from the turbine keeps the paint moist and ensures that it does not dry too soon. It also helps to prevent choking inside the hose. So, take your pick between compressor and turbine to make sure you have the best HVLP spray gun.
Brands – There are some top brands that have proven, time and time again, how trusted they are. These brands have years of reputation behind them and, as such, their materials are quite durable and long lasting. They also have excellent HVLP spray system reviews because a lot of people have used their models and found them to be excellent and efficient.
You will also find a large variety of options to choose from and different features to pick when you go for the top brands as opposed to local ones. Some top brands to watch out for include Earlex, Campbell Hausfeld, Black & Decker, Tool Force, HomeRight, and Wagner.
Cost – Cost is always a big factor when it comes to any kind of sprayer. However, you should always remember that an HVLP sprayer will change your life for the better. Your projects would look much better because of your focus on detailing, thanks to your best HVLP paint sprayer. You would be spending a bit extra time on the work but the final result is always worth it.
As such, you don't want to be stingy in this one area. The cheaper models of HVLP sprayers also have less positive spray gun review if they are efficient but they would only come with basic features. The best HVLP sprayers would be slightly pricey but they will work much better in the long run.
Control – This is another important factor that many HVLP sprayer reviews would mention because it determines how well you are able to use your HVLP sprayer. Some sprayers offer additional control features to make life easier for you.
Let's take a look at these various spray guns and a review some of the best HVLP guns based on the needs of the consumer.
Best HVLP Spray Gun Comparison Table
Image
Description
Feed Cup
Dimensions
Rating
Price
1. Fuji Semi-PRO 2 - Gravity HVLP Spray System


** Editor's Choice - Best HVLP Paint Sprayer **

400cc
9.5 x 16 x 12.5 in
9.4
2, Wagner 0518080 Control Spray Max HVLP Sprayer


** Best Budget HVLP Paint Sprayer **

1420cc
18.5 x 12 x 12 in
9.0
3, Earlex Spray Station HV5500
946cc
12 x 12 x 26 in
8.6
4. Campbell Hausfeld Easy Spray
600cc
7 x 9 x 9 in
8.2
5. Tool Force A-C2
125cc
7.5 x 4.7 x 2.9 in
8.0
6. Wagner HVLP Control Spray Sprayer
946cc
9.8 x 6.5 x 10.8 in
8.6
7. Devilbiss Finishline HVLP Gravity Feed Paint Gun
900cc
5.5 x 5.5 x 10 in
8.6
8. Binks HVLP Spray Gravity Gun
1000cc
7 x 10 x 6 in
7.2
9. Rockler HVLP Spray Gun
800cc
22.7 x 13 x 9.7 in
7.0
1. Fuji Gravity HVLP Spraying System
** Overall Best HVLP Spray Gun **
While I love the Wagner Control Max HVLP for spraying wooden furniture, I think I love the Fuji Gravity for its ability to paint both wooden furniture and iron furniture.  I was first turned onto the Fuji Gravity HVLP from an old friend of mine who now owns a resale shop.   She was using the Fuji Gravity to spruce up some iron chairs that she had found at a garage sale.  After a few coats of the Fuji Gravity, these 30-year-old chairs looked brand new in no time.   She said that her investment in the Fuji Gravity has netted her several thousand dollars in the ability to repaint old furniture in no time.   Here are some reasons that we picked the Fuji Gravity HVLP spraying system as the best HVLP spray gun for furniture.
Quick
Much like an assembly line, it is very easy to line up furniture and spray it quickly with the Fuji Gravity HVLP gun.   When painting a dining room set I was able to lay down all of my furniture and spray it in a short amount of time.
Little Overspray
The amount of overspray that the Fuji Gravity leaves is very minimal, thus making it effective in utilizing paint and safe on the environment.  When painting indoors the less paint in the air the better and the Fuji Gravity is great at minimizing the overspray as much as possible.
Great Investment
While the initial cost of the Fuji Gravity is higher than most HVLP paint guns, the return of the investment will be found in just a few small painting jobs.  If you are someone that finds cheap furniture and clean it up, this job will make your money back in no time, especially when working with large dining room sets or vintage furniture.
2. Wagner Control Spray 0518080 HVLP Sprayer
** Best Value HVLP Spray Gun **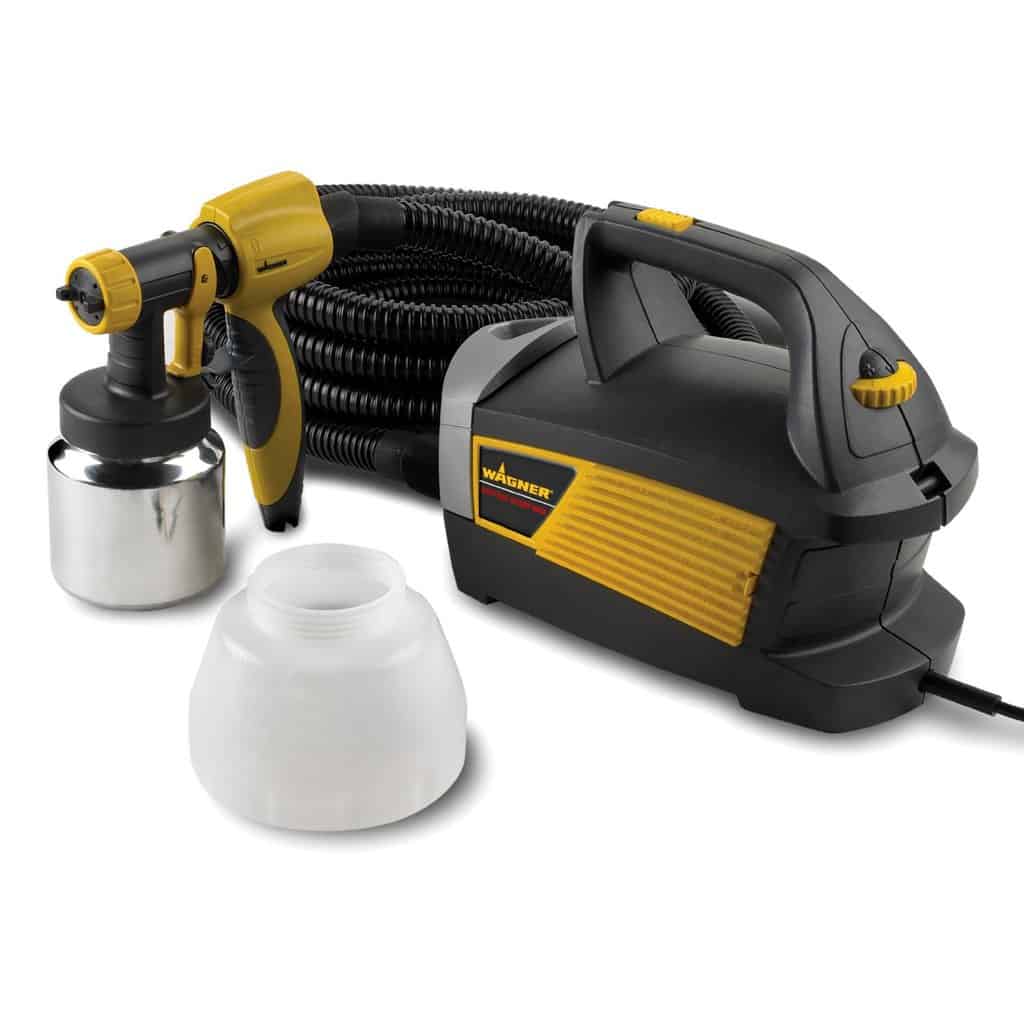 This is the best HVLP sprayer across all the brands because it has so many great features, plus it also comes with the Wagner seal of approval
Two Phase Turbine – If you are looking for a powerful HVLP sprayer, you don't have to look any further because, with its two phase turbines, this model from Wagner is simply the most powerful and efficient.
Easy To Change Spray Patterns – The spray patterns can be easily changed by tweaking the ears present on the cap. You also get to enjoy three kinds of patterns that make this device quite versatile in its applications.
Pressure Control – Apart from the air pressure control knob that completely eliminates the problem of overspraying, this Wagner model also has a long hose to reach difficult corners, dual air filters for additional safety and efficiency, and easily refillable container.
3. Earlex Spray Station HV5500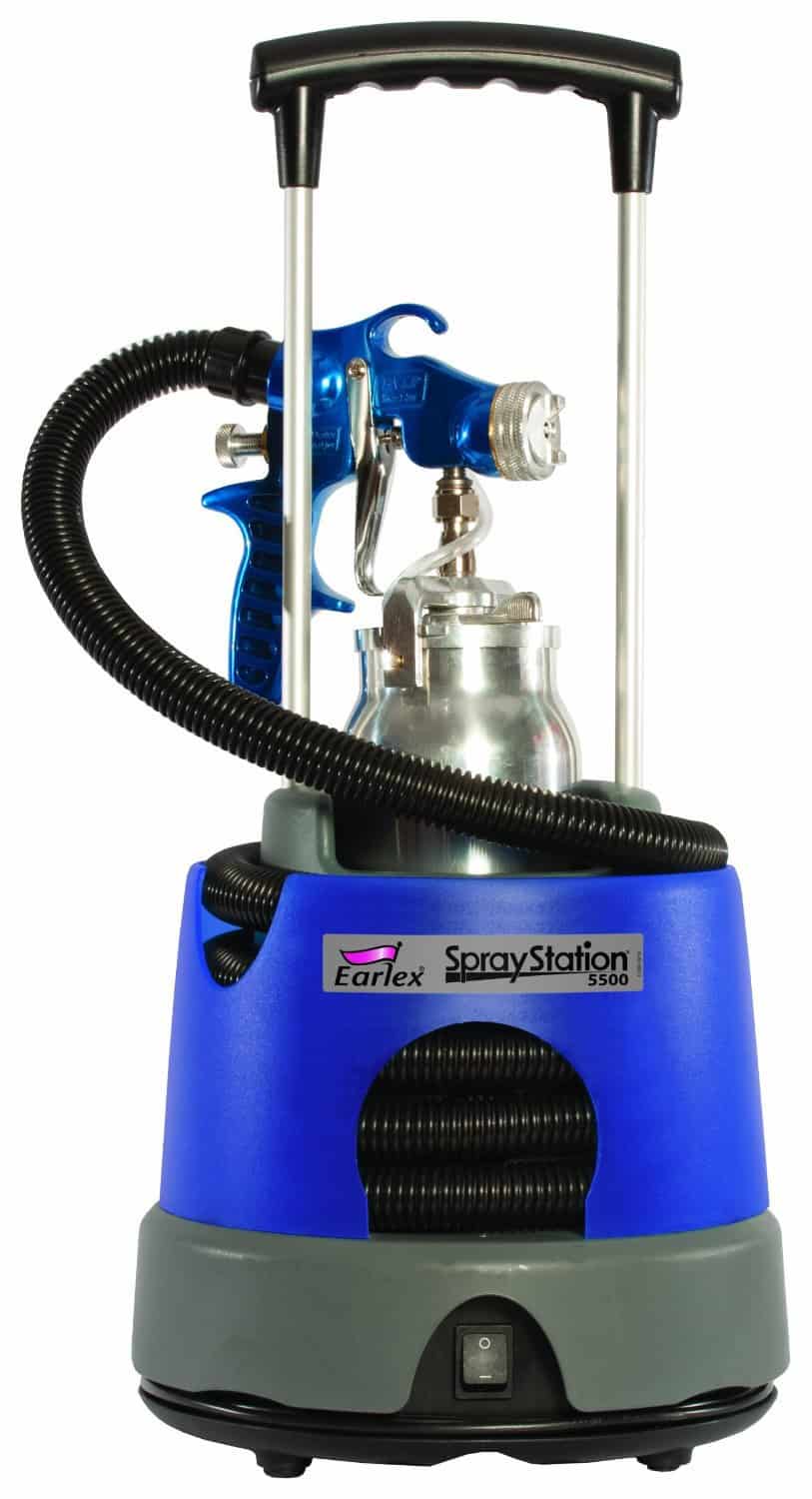 This model is usually in the top best HVLP spray gun list because it is quite versatile in its application, is very well designed, and comes with various interesting features –
Precision Control – Many people complain about control with cheaper models but this one from Earlex works with amazing ease because you also get to work with the Precision Control feature. This controls the problem of overspraying. Both water based and oil based products can be used with this Earlex model.
Pattern Changing – You can get a variety of patterns with the Spray Station. The spray pattern system is changed with a simple push and click mechanism in this model. Plus, it is quite versatile for both small and medium-sized projects.
On-Board Storage and Handle – The portability is further enhanced because of the unique on-board storage of the Spray Station. There is also a handle that ensures easy movement while you are undertaking a paint job.
4. Campbell Hausfeld Easy Spray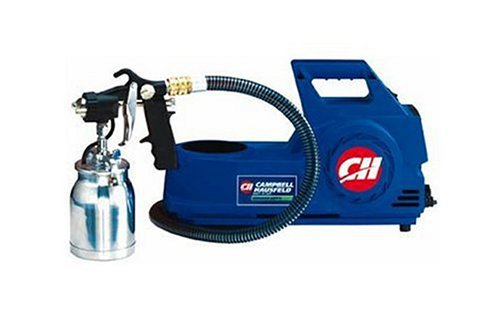 Most HVLP turbine spray system reviews feature this model from Campbell Hausfeld because it is so well designed and, considering the features, quite affordable as well –
Different Viscosities – You can use paints of different viscosities with this Campbell Hausfeld model and this is one feature that you wouldn't find with comparable HVLP sprayers because it is quite uncommon. However, it is still extremely useful.
No Compressor, Two Turbines – Because there is no compressor in this model, you can rest assured that it is quite safe. At the same time, there are two turbines which blow a hot gust of air and prevent condensation inside the hose.
No Overspray – The problem of overspraying doesn't occur with this paint sprayer. Also, the container's capacity is 1 quart and it offers eight different finishes, including stencil, crackle, confetti, leather, fleckstone, oil based sealers, fine finish, and even latex.
5. Tool Force HVLP A-C2 Touch-Up Spray Gun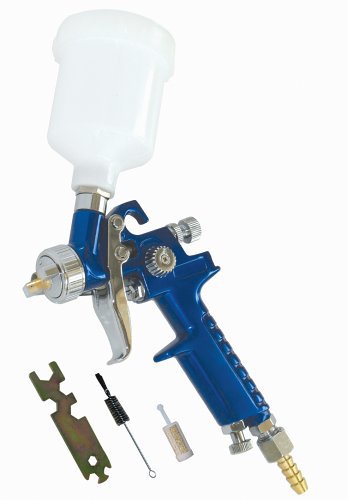 Tool Force is a brand for DIY lovers who have an extremely small budget and want something basic but reliable –
Extremely Affordable – This is the best HVLP paint sprayer for you if your budget is extremely small. It is extremely affordable and has some great but basic features that could come in handy during your projects.
Good Accessories – You get some useful accessories with this model that are quite essential to the efficient operation of any HVLP paint sprayer. This includes a spanner, 1mm nozzle, cup filter, and a plastic cup.
Prevents Overspraying – The model is designed in such a way that you would not end up overspraying and wasting any paint. This makes it eco-friendly and quite good for the environment.
6. Wagner Control Max HVLP Sprayer
If you have read any of my other posts, you will see that I have a ton of love for the Wagner Control Max HVLP Sprayer.  Not only is probably my pick for the best overall HVLP sprayer for home use, but it also fits the role of the best HVLP spray gun for woodworking.   While I am not a woodworker myself, I have painted plenty of wooden objects in my classroom over the years.   I feel that those who do woodworking will love the Wagner Control Max HVLP Sprayer and here are a few reasons why.
Why I chose the Wagner Control Spray HVLP Sprayer
I needed a low high volume/low-pressure sprayer because using a regular airless sprayer in my shop tends to leave too much particulate in the air. This particulate flowing very finely in the air would, in turn, leave a mist, which was only visible after the job began drying. It leads to more sanding and painting to return a quality job which adds time while subtracting profit.
Versatility
The best thing about the Wagner Control Max HVLP sprayer, in my opinion, is the versatility that it offers.  Whether you are spraying a wooden dresser, iron chair or your bathroom cabinets, the Control Max HVLP sprayer can fit the role.
Price
Perhaps the best priced cheap HVLP sprayer, the Wagner Control Max is definitely light on the wallet when compared to a number of other sprayers. Typically for $100 or less, you can get everything that you need to start your painting project INCLUDING your paint sprayer.
Overall
When doing a Wagner Control Spray HVLP Sprayer review I would easily give this product 10 out of 10 and recommend it for anyone who needs to do a small sized paint job in as little time as possible.   The one downfall is that for larger jobs you will spend a little time refilling paint, but his is just a minor inconvenience.
7. Devilbiss Finishline 4 HVLP Gravity Feed Paint Gun

As an auto body teacher and someone that paints and teaches automotive painting 9 months a year I have used several different paint guns over the years.   As far as choosing the best HVLP spray gun for automotive paint the Devilbiss was the first option that came to my mind.    Here is a review of some of the best qualities of this auto paint gun and why it was chosen as the best.
Great Price
At approximately$200 online, this is a great investment for someone that plans to paint their own car or who will be painting a number of cars in the future.   With the same capabilities as much more expensive models, this spray gun can do the trick for your car and save you hundreds of dollars on a professional paint job.
Little Overspray
While some automotive spray guns emit a lot of overspray, the Devilbiss HVLP Gravity Feed paint gun is not one.   The Devilbiss not only uses very little extra paint, but it also saves money by allowing the user to buy less automotive paint which can be very expensive.
Smooth Pressure
With a 13 CFM and 23 PSI, this offers plenty of power without being too powerful on the user.   Most users who have purchased this sprayer say that the gun feels lightweight and sprays smooth.
8. Binks Gravity HVLP Paint Gun Review 

I decided to try out the Gravity HVLP and found that it is actually one of the best high volume paint guns on the market.  As someone who paints indoors a lot, I need something that is lightweight and effective.  After using the Gravity paint gun for the last year and a half I can vouch for both.  Let's look into more into the Binks Gravity paint gun.
Features
The Binks spray gun definitely has a lot of great features that you will want to consider.  First and foremost, it is able to apply a variety of different materials.  You can apply thick materials like epoxies and latex, or thinner materials such as lacquer and primers.  It offers an ergonomic design with an easy to pull trigger.  It has a drip-free cup, and also includes the gun wrench and lubricant needed.  It can hold up to a liter of paint, making it convenient to use.  It really is ideal for most paint projects.
Cost
One factor that most people want to know about first and foremost when shopping for a new paint sprayer is how much it costs.  The Binks spray gun Gravity HVLP costs just at $575.  It is really a very affordable option if you are someone that paints on a daily basis.  I upgraded from a lower price paint sprayer that I had been using for the last three years and I can definitely say that this spray gun paid for itself in a few short weeks.
Uses
Over the past 10 years, I have probably painted 1,500 homes and over 300 businesses.   I find that if you are a high volume interior sprayer that an HVLP sprayer is definitely the best choice.  With the Binks, I don't have to worry about overspray or repainting walls as almost all walls can be done with two easy coats.
This sprayer works well on almost any painting job and definitely fits the bill as a great DIY tool.
Overall
I would highly recommend the Binks Gravity HVLP sprayer for anyone that paints on a daily basis and is looking for a comfortable, lightweight painter.   While the $600 or so investment may be a little much at the beginning, the gun will definitely pay for itself with the amount of work that it cuts out.
9. Rockler HVLP Spray Gun Review

The Rockler HVLP Spray Gun was by far the best investment for my home over the last two years. More importantly for an everyday Joe like me, the system allows the user to spray lacquer, stains, water-based finishes, and oil-based paints. The spray pattern and subsequent coverage is easy to set after an initial learning curve. A non-professional may find the instructions lacking so I'd recommend trying YouTube for some information to save you time and effort.
Features
The unit comes with 2 spray heads. Use the smaller holed one for latex paint projects. Since there are only 2 spray settings this HVLP spray system is very easy to set up and clean up. I suggest removing all parts and take the time to clean each piece individually. For ease of use, quality, superior customer service, and performance I prefer the Rockler HVLP Spray Gun above the Earlex, which was a gun that I had previously bought and returned after it clogged up too frequently
Price
After searching around local hardware stores and getting some sales professional's point of views, I decided to do my own research and purchase this item from Amazon. I felt that after reading reviews, the Rockler was the best HVLP spray gun for my particular budget, which was under $200 including paint.  After ordering this item, I was in and out for just under $170 and the Rockler HVLP Spray Gun was in my home in less than 3 days.
Overall
Since purchasing this unit I have painted 4 bedrooms (my daughter's twice), a bathroom, kitchen cabinets and a dining room set.   Once you start using an HVLP spray gun it kind of becomes addicting and you find reasons to paint other things in your home.  I recommend the Rockler paint gun to anyone looking to upgrade their home.
HVLP Spray Gun Buying Guide
When making an HVLP spray gun comparison among a group of spray guns that you are interested in purchasing it is important to base your decision on your needs.  The needs of a commercial painter will be drastically different from a weekend warrior that is just painting a few pieces of wood or doing a small room.
HVLP spray gun comparison
Much like any other tool, HVLP spray guns come in different size, shapes, colors, and strengths.   Also, along with all these different attributes is perhaps the most important thing to look at and that is the cost of the paint sprayer.  Here is what to look for in each of the spray guns that you are interested in before making a final decision.
Reviews– Online reviews from legit websites are probably the most important thing to look at before purchasing a sprayer. While even the best paint sprayers may have a few defective devices, a good spray gun will be easily distinguished by a number of positive reviews.
Cost– As much as we try to act like cost won't matter, the plain truth is that it is probably the most important factor for 90% of the people buying an HVLP sprayer. As a good rule of thumb when trying to find the best paint sprayer for the money is to find a group of 3 or 4 in your target price range and then expand your research on each of these models.
Power– Spray Guns are typically measured in PSI and CFM. These stand for Pounds per Square Inch and Cubic Foot per minute.  For more information on these two measures, please see this guide.
Uses– The type of HVLP spray gun that you use for painting a car, will be different from one that you would use on your home.   It is important to find a type of spray gun that fits your needs.
Advantages and Disadvantages of HVLP Paint Sprayer
Here are some top advantages and disadvantages of HVLP paint sprayers that you should consider when you are going through HVLP paint sprayer reviews –
Advantages (Pros)
Good For The Environment

– The problem of overspraying doesn't occur with HVLP paint sprayers which means that the paint doesn't get into the air as much. Also, there is no wastage of paint which is quite eco-friendly because a little amount lasts you for a long time.
Better Control – If you like to control the rate at which the paint flows out of the nozzle, you would like HVLP paint sprayers because in this device, a regulator is installed to control the pressure at which the paint comes out. Sometimes, a fan is also added to add more control.
Simple Maintenance – Airless and conventional spray systems require a great amount of maintenance because they use high pressure to spray the paint on the surface. HVLP sprayers, on the other hand, require comparatively less maintenance and cleaning because of their low pressure mechanism.
Amazing Transfer Efficiency – This is probably the biggest advantage of having an HVLP sprayer in your workshop because the transfer efficiency is close to 90%. This is because the materials used have a low viscosity and low pressure is used to spray them. This means the fog of paint doesn't build up that easily.
Good Safety – Paint injection is a serious safety concern with airless and conventional safety systems. The high pressure creates this risk. Because of the low pressure nature of HVLP paints, this is not that big a threat.
Disadvantages (Cons)
Slow Process – If you are used to airless sprayers, you would find HVLP sprayers extremely slow because the PSI rate is quite low. This is mainly because they are not used for jobs where a large area needs to be covered in a small time.
Only Works With Materials Having Low Viscosity – Materials with high viscosity such as latex paints simply cannot be used with an HVLP paint sprayer. This means that you either have to add thinners or heat the paints on a stove before you use them with this sprayer.
How To Use HVLP Paint Sprayer?
Before you start going through HVLP sprayer reviews to find out your ideal HVLP sprayer, you should understand the fact that using these sprayers are quite different from airless and conventional sprayers. Most HVLP reviews would mention this fact and even if you go through the manufacturer's instructions, you would get a clear idea on how to use the device.
How to Use a HVLP Spray-Gun
Additional features can change the usage of a model and it depends on the brand, but generally, these are the steps to follow while using an HVLP paint sprayer –
Read The Instruction Manual – Always start by reading the instruction manual that is provided with the sprayer. Every device has unique features like pressure knob the manual would clarify a lot of basic points for you and help you use your HVLP sprayer in the best way possible.
Follow Safety Instructions – You will find special instructions regarding safety in the manual. This includes maintaining a good air supply so that the paint is easily broken into finer particles. However, with too much airflow, you can end up overspraying. Too low and the paint pattern would be coarse.
Practice With Water – Always start with a bit of water to acquaint yourself with how the painting works and what the spray pattern looks like. This would also allow you to experiment a bit with your particular model and understand the special features, especially the regulator knob that controls the pressure.
Fill The Container and Assemble – Always leave half an inch at the top when you fill your container. After that, put the lid on and adjust the pressure of the device by working the regulator knob of your HVLP sprayer.
Check The Finish – The finish should not be too dry or wet because that is not what you are going for. There is an adjustable knob that will help you get the perfect finish.Start Painting – When you begin painting, make sure that the distance is as per the instruction manual and your HVLP sprayer is perpendicular to the surface. In the earlier strokes, there should be 3/4th overlap. Also make sure that you keep a constant speed and get an even coat of paint all over.
Tips On Choosing The Best HVLP Paint Sprayer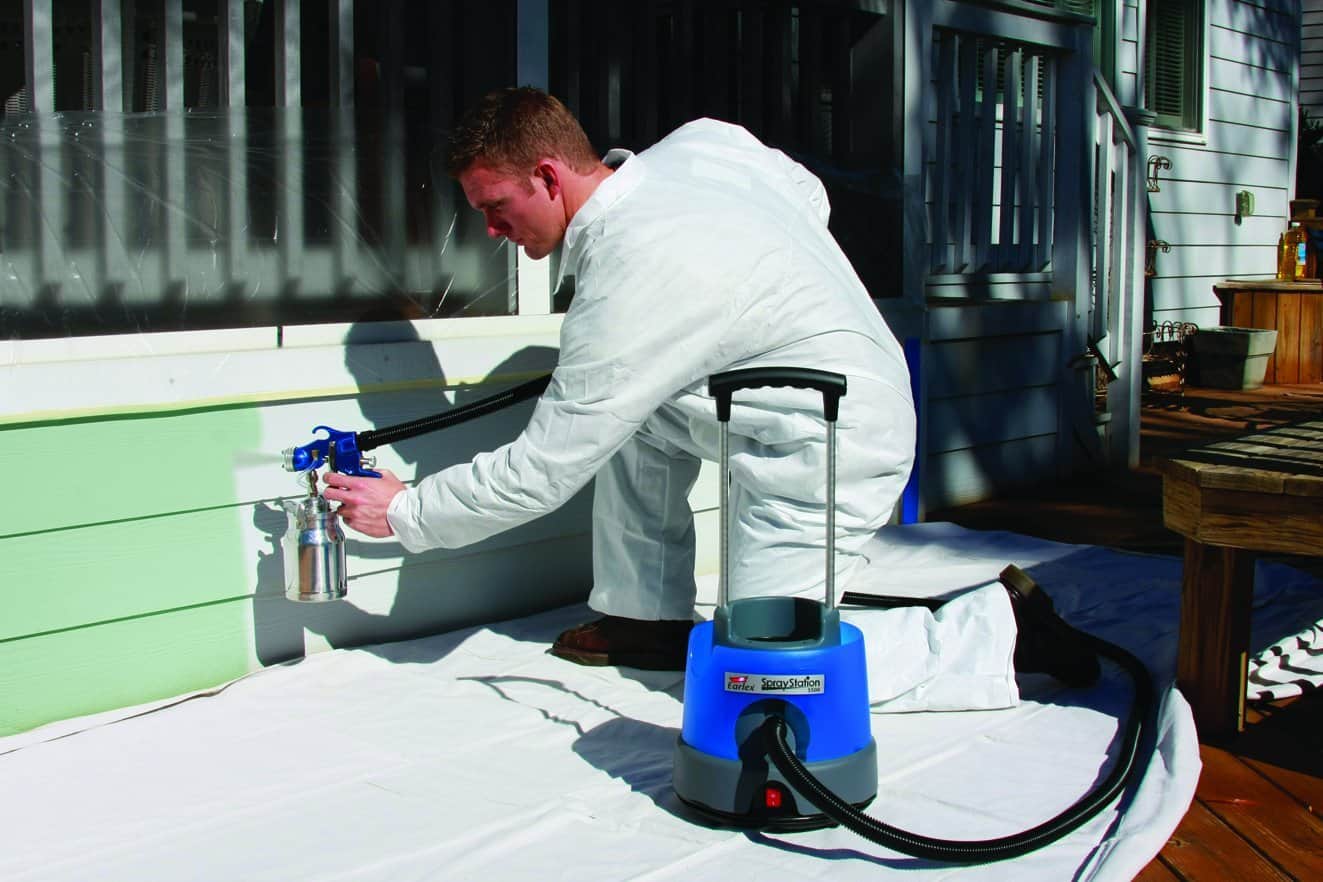 Some tips can save your money and time, and ensure that you have the absolute best HVLP sprayer in your hands when you make that purchase:
Save Money And Buy During Sale Season – If you have made a list of your best options and are worried because the top options are way over your budget, you should wait for the sale season to hit your favorite online stores.This would ensure that you get many big discounts, especially on popular models and the lowered prices could finally put some top HVLP sprayers within your reach. If you want to buy a sprayer urgently, you should definitely consider saving some money instead of going for a cheap model with no useful features or only the basic features.
Read The Reviews – Read as many HVLP paint sprayer reviews as you can before you make your final list of HVLP sprayers. It is important that you understand the actual experience of people who have used the product before you decide whether a model is worth the purchase. Also, reviewers can often reveal interesting tips for the model.
For instance, turbine HVLP sprayer reviews would let you know about the average drying time of the model over conventional sprayers. Some high volume low-pressure spray gun reviews would also inform you about the problems that manufacturers would never reveal.
Choose The Right Type Of Paint – Because of the pressure, you simply cannot work with paints that have a high viscosity like latex. So, if you are used to using these kinds of paints a lot, you should consider an airless system. If you still want to use an HVLP paint with slightly thicker paints (no latex), then you have to thin it down using paint thinners.
You can also have a paint heating stove and heat it on low flame to thin it down somewhat. However, the results wouldn't be as you expect from the best HVLP sprayer that is being used with thinner paints.
Take A Look At Manufacturer Websites – There are times when you end up buying a model that has been discontinued by the manufacturer. These models are still available with stores and online sites. However, if they are discontinued, you might face some problems getting additional accessories from the manufacturer independently.
If the product comes with a guarantee, it could also be nulled with discontinued products. So, always check in with manufacturer websites. Plus, you could also get some good discounts during sale season here.
Where To Buy An HVLP Paint Sprayer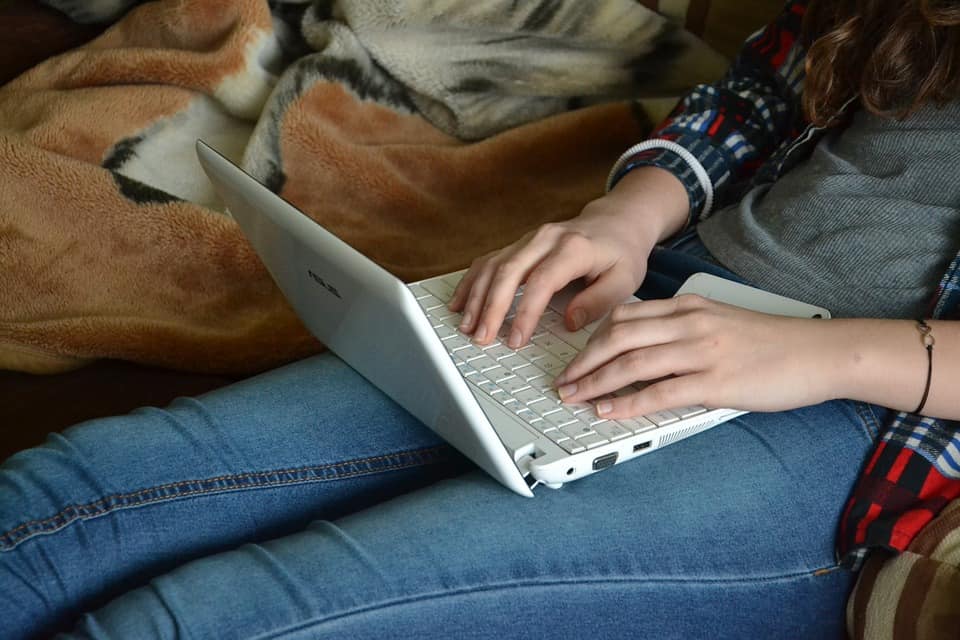 When you decide to buy HVLP paint sprayer, you have two options that you can explore – a) you can choose go to a local store located near your house; b) you can decide to shop online. If you choose to shop at a local store, you would get some available HVLP sprayer immediately and there would be no waiting time.
Plus, you can actually check the grip of the gun and see how it works before you make your purchase. However, you would not have any variety to enjoy. Local stores only cater to a specific range of brands and all your shortlisted models might be absent from your local store.
An online store like Amazon would come with the following benefits:
Quick Delivery – Amazon offers you the option of getting your HVLP sprayer within – the same day, in two days, and three days – and you also have the option of free delivery. Basically, you can forego the free delivery in exchange for quick delivery of your HVLP sprayer.
This is important because a lot of people choose local stores since they want the product to be delivered in the short time but the same luxury is available on online sites as well. You can also look at manufacturer websites for purchasing the best cheap HVLP paint sprayer.
Discounts and Sales – In local stores, products are valued at the MRP and you end up paying the full price because no discounts are offered. However, when you shop at online sites like Amazon, you can get many amazing discounts, coupon codes and vouchers as well.
During the holiday season, the prices come down further and when the end-of-season sale takes place, you can also buy your HVLP paint sprayer for sale at a lower cost. This means that during this time, you can end up getting a discount of 50 – 70% and buy those HVLP sprayers that were previously well out of your price range.
Customer Reviews – Local stores only house local brands and you have no way to find out how these brands work and whether they are efficient or cost effective. This means that you wouldn't be able to buy the best HVLP spray gun because you don't know anything about the product or the brand. Online sites have a plethora of options that come with HVLP paint sprayer reviews that can aid you in your buying process. Customers and DIYers like you who have actually used the product have left these HVLP sprayer reviews and you can find out more about their experience.
Range of Choices – Finally, local stores can never compete with online stores in terms of variety and options. Amazon and other online websites have many brands – both cheap and expensive – and variety of features to choose from. You can find out the cheapest option that ticks all the boxes for you.
Choosing the Best HVLP Spray Gun for Your Budget
Most people want to find a spray gun that is not only going to fit their budget but also is able to provide them with the best possible paint job.  Let's take a look at the factors to look at before purchasing an HVLP spray gun.
Quality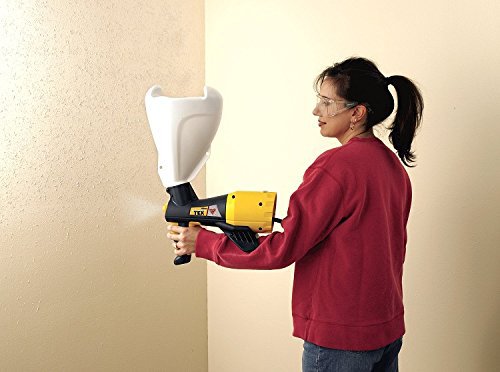 One of the first things that you will want to consider is the quality of the spray gun.  The best HVLP spray gun will be made with the highest quality standards in mind.   They will use quality materials and test and retest their models to ensure that they are going to get the job done right.  One of the best ways to get a good idea about the quality is to see what other people have to say about it.  Like anything that you buy, it is wise to look at reviews.   While we feel that we do a good job of reviews, it is best to take a look at a variety of reviews from different users.
Cost
Next, you will want to consider the cost of your spray gun.  The best HVLP spray gun isn't going to be the cheapest one out there, but it doesn't always have to be the most expensive.  You can often time find a high-quality spray gun at a price you can afford.  You just need to do some shopping around to find a good price. You never have to pay the full retail price when shopping online.  Depending on your needs you can spend as little as $60-75 to find a quality HVLP spray gun for light projects.
Reputation
You need to also make sure that the manufacturer has a good reputation.  Believe it or not, some of the manufacturers out there don't have the best reputation in the world.   This is why it is so important for you to do your research ahead of time.  Some of them may not hold true to their warranties, or even worse, some may not offer a warranty at all.  If the product is a good one, then they will back it with a warranty.  This is something that is very important when shopping for a quality HVLP spray gun.
How to Choose the Right One
With so many different models on the market, how can you really choose the right spray gun?  The truth is there probably isn't just one that is considered to be the best.  There are going to be several quality paint guns out there that have the qualities of the best spray gun.  You just have to make sure that you take a look at the qualities and features, and compare them with the features of other models.  You will soon find what features are important to you, and what features you can do without.
Your Particular Needs
While users buy spray guns for a variety of reasons, we like to base what
sprayer they should get on their particular needs.  Because needs are different, we feel that a good rule of thumb is to buy in the category that best fits the volume of work that you will do.   Here is how we break it down.
High Priced ($300 and up) – If you plan to use your paint gun on a regular basis as a contractor or are investing in painting your whole house,  you would be wise to look into a higher price HVLP paint gun.
Mid Priced ($100- $200) – These are for the weekend warriors or for someone looking to do a small project here and there. If you are someone that paints on occasion and maybe want to paint a room or two or just have a paint gun around the house in case the need arrives.
Low Priced (Under $100)– If you are looking to do a small project such as painting a door,  wood furniture or something else we advise that you look for a cheap HVLP paint gun under $100.
Time To Make The Decision
So, what is the best HVLP spray gun? Have you answered this question after reading the reviews and buying guide in the above sections? If your answer is yes, you are finally ready to transform your little hobby into something much more professional. Now, all you need is the best HVLP paint sprayer to add the necessary finishing touches to your cabinets and windows, making them beautiful and adding a splendid touch to your handiwork.
Buy your favorite and best HVLP sprayer now and say goodbye to unprofessional work forever!